ANNAPOLIS, Md. — Gov. Larry Hogan issued an amended emergency order on Monday that will effectively ban counties from "blanket school closures" and allow private and parochial schools to have the power to keep schools open or move them online.
Hogan said this is to ensure local schools and school systems will have the primary authority to determine when to safely reopen schools for in-person instruction.
Under an order issued on April 5, local health departments continue to have the authority to close any individual facility deemed to be unsafe.
Montgomery County health officials said Friday that all nonpublic schools must remain closed for in-person instruction through Oct. 1, 2020. "Nonpublic schools" were defined as any school in Montgomery County not affiliated with MCPS, including private schools, religious schools, and independent schools.
Montgomery County Public Schools announced recently that they would offer virtual learning through Jan. 29, 2021, citing health and public safety reasons.
Following the announcement from Gov. Hogan on Monday, parents of private school students who spoke to WUSA9 voiced approval for the emergency order.
"We couldn't be happier he listened to us," Ally Bloom, who has two children in Montgomery County private schools, said. "The schools already have smaller classroom sizes and more space to spread out. We feel that they can return safely to the classroom."
The debate over allowing in-person teaching to take place led to some parents forming a special "Open Montgomery County, MD Private Schools" group on Facebook.
As of Monday night, the group had over 3,800 members.
An online petition that also called on the county order closing private schools to be rescinded attracted almost 1,600 signatures.
Kevin O'Rourke, who helped organize the Facebook group, believed private schools, in particular, could safely hold in-person classes.
"They are small enough to make the changes that we expect them to make," he said. " I trust the people at my school that they don't want to get my kids or themselves sick."
Other Montgomery County private school parents said they are seeking legal action after the county announced that decision to prohibit nonpublic schools from reopening in the fall.
"We were very blindsided as the parent body. I have not spoken with our principal yet, but as a parent body we were extremely blindsided," Joyce Kraus Dyer, a Mary of Nazareth Catholic School parent and HSA President, said. "Our staff has been working tirelessly over the summer to come up with a cohesive plan to be able to introduce our children back into school, which they've obviously been missing since March 13. It was a 19-page plan."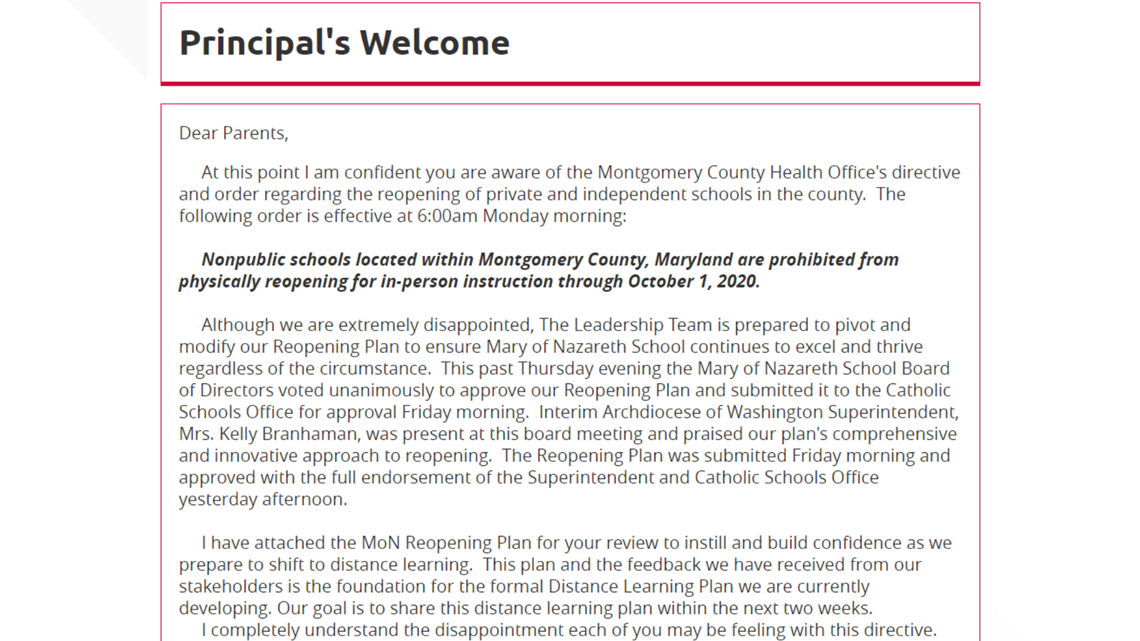 However, not all parents are in support of keeping in-person learning closed. Sherri DePollar said she supports not having kids in the classroom and would consider moving her son back to public school if he had to return.
Montgomery County's Health Officer Dr. Travis Gayles said the decision to direct schools to remain closed for in-person learning was based on science and data.
He also said that there has been an increase in younger age groups testing positive for COVID-19.
"At this point, the data does not suggest that in-person instruction is safe for students or teachers," Dr. Gayles said. "We have seen increases in transmission rates for COVID-19 in the State of Maryland, the District of Columbia and the Commonwealth of Virginia, particularly in younger age groups, and this step is necessary to protect the health and safety of Montgomery County residents."
As of July 31, Maryland has more than 88,000 cases of COVID-19 and 8,377 people under the age of 20 have tested positive for the virus. In Montgomery County specifically, there are 17,568 cases of COVID-19, and 750 people have died of the virus.
County Executive Marc Elrich tweeted Monday afternoon that the restriction on nonpublic schools "was made with one concern in mind – protecting the public health of our residents."
Over the weekend, Hogan condemned Montgomery County's decision to mandate private schools to go virtual-only during the fall semester and expressed such displeasure on his social media.
"They short-circuited the freedoms that are held by the religious institutions to make their own decisions based upon not only conscience but wisdom," former private school teacher Matthew Arney said.
With the governor's emergency order still allowing the Montgomery County Health Department to close any individual facility deemed unsafe, the parents said they were still glad that the decision to reopen could be made by the private schools.
"I think we're all waiting individually to hear from our schools," Bloom said. "Now the question becomes what will the schools do and do they feel that they can comply with the county directives?"