WASHINGTON, D.C. -- After Adam Lanza murdered 20 children and six adults at Sandy Hook Elementary School in Newtown, Connecticut, in December 2012, the decision to tear down the old elementary school and replace it with a new one was filled with angst and emotion.
"That's all they thought about," said lead architect Jay Brotman of Svigals + Partners and a member of the American Institute of Architects "How to make it as protective as possible. How do they protect their children?"
"The gut reaction before we arrived on the scene was to build the windows up high and put the kids in court yards where they could play and not have any connection to the community at large," Brotman said.
But instead of building a fortress like that, Brotman and his design team convinced Newtown there was another way – by weaving safety features into a campus with open grounds, expansive views and lush gardens.
The new Sandy Hook Elementary School has large windows angled to allow children to see out, but no outsiders to see in. The school building is surrounded by a rain garden around the perimeter that doubles as a moat, funneling visitors into three specific entry points so teachers can always see who's coming.
It's an approach known as biophilic design that uses light and connection to nature to reduce stress and improve cognitive function and creativity.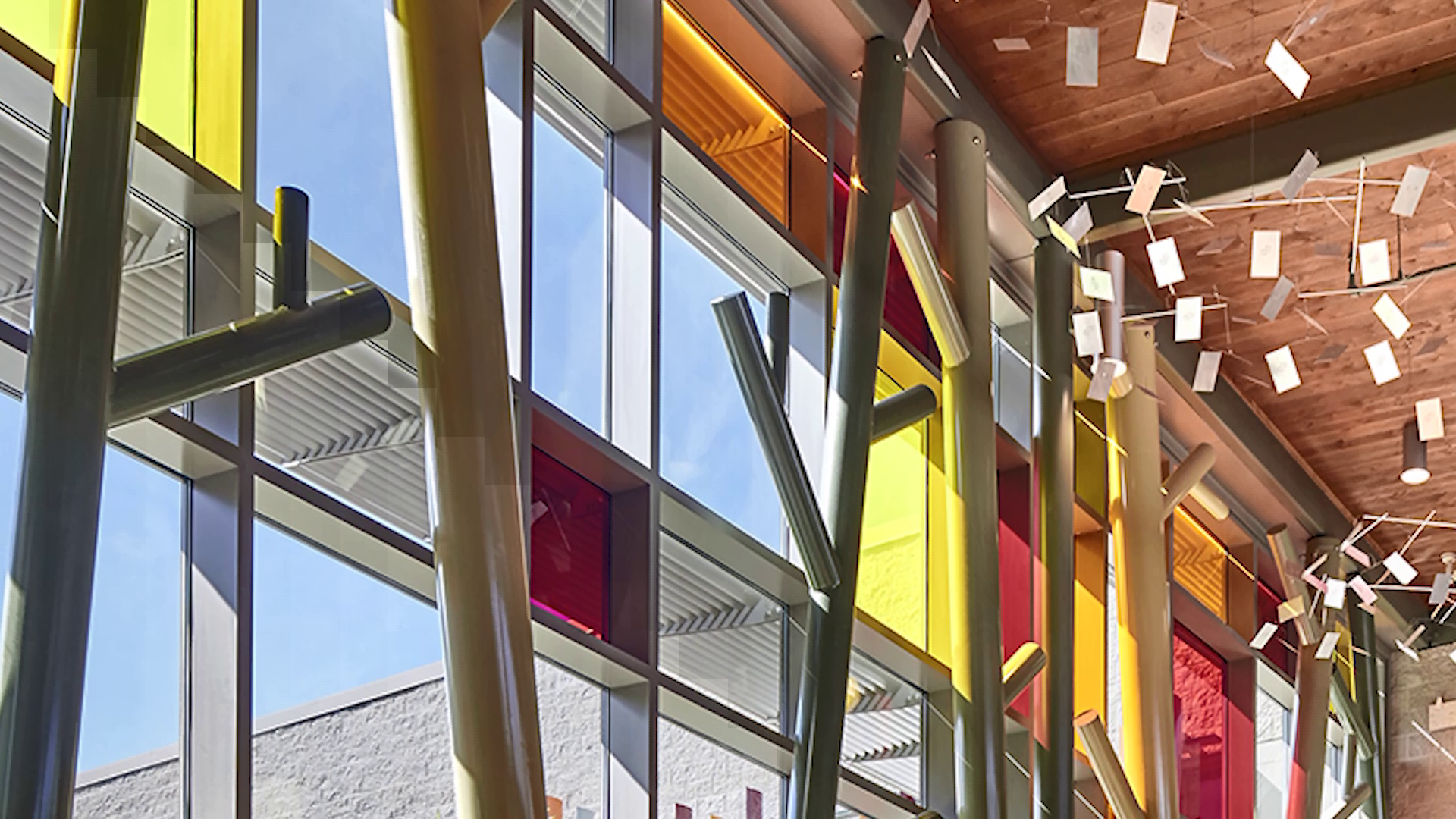 (Above and below) The interior of the new Sandy Hook Elementary School prioritizes natural light and forms found in nature to create a stress-relieving environment. (Photos courtesy Svigals + Partners)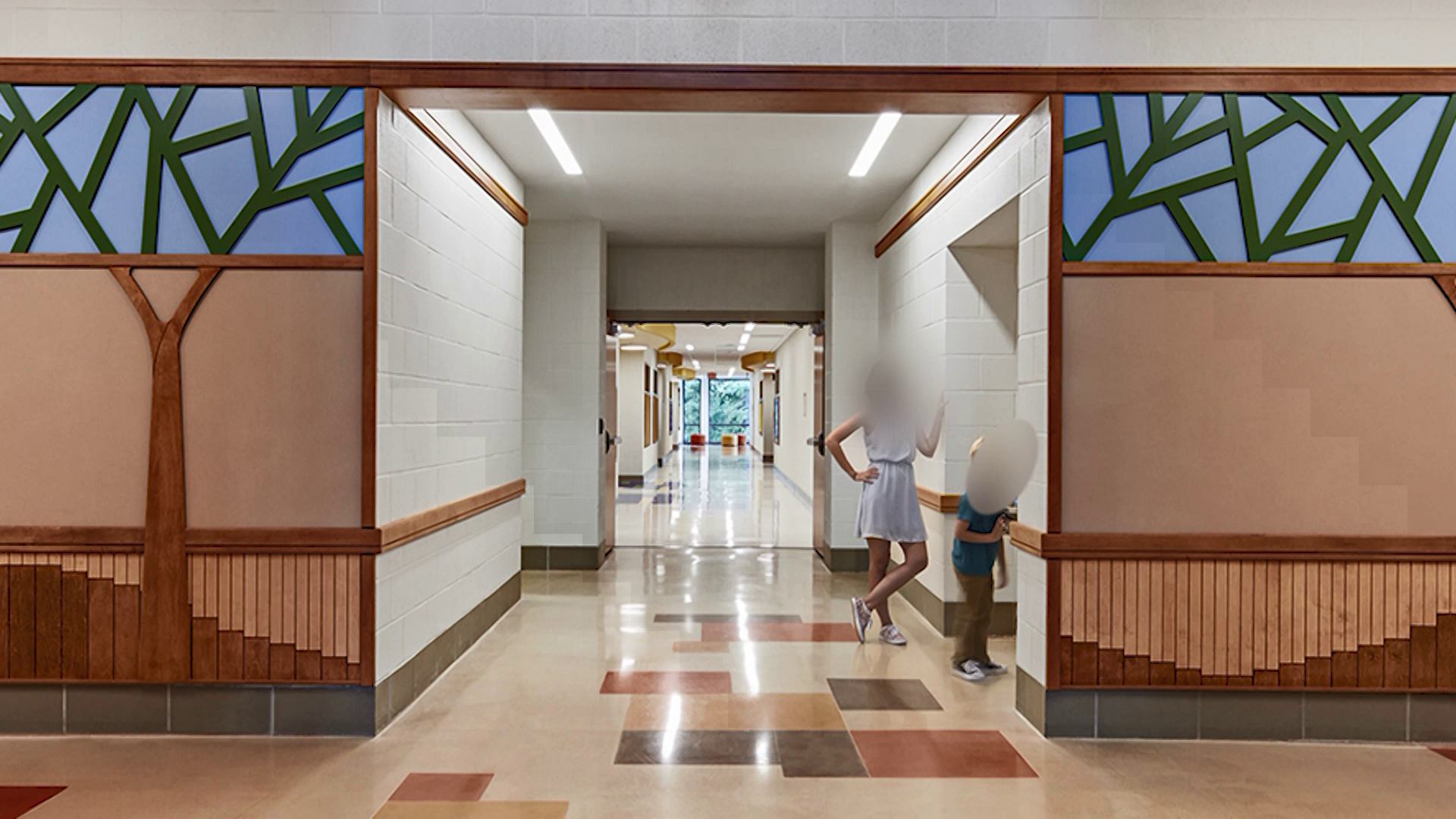 In Baltimore, a team of architects, scientists and educators are studying the effects of biophilic design on students' performance and personality at Green Street Academy, a middle and high school serving low-income, at-risk students in the western part of the city.
"I think there's a knee-jerk reaction," said Jim Determan, an architect with Craig Gaulden Davis who is leading the study. Determan is a fellow with the American Institute of Architects.
"We're hearing school districts around the country that are taking windows out and turning buildings into prisons. If we turn our buildings into prisons you can expect students to behave like prisoners."
Determan's team is comparing the performance of students in a specially outfitted biophilic classroom to that of students in more traditional brick and mortar environments. In that classroom ceilings, wall paper and even carpets feature bright airy patterns. And the windows offer students an unobstructed view of the garden outside. The classroom even has "smart blinds" that automatically control how much light students are getting.
Determan hopes the results of his study, which he expects will prove the benefits of biophilic design in schools, will encourage other districts to model their classrooms the same way, rather than taking a bunker mentality.
"If there's a way to make students feel better and not get to a point where they are going to cause bullying or aggression or violence, let's take that route," Determan said. "Let's make that part of the solution."
The American Institute of Architects is pushing for new laws that would free up funding, so school districts could work with architects on solutions like biophilic design. AIA also wants to create the first clearinghouse for school architecture and safety plans, so all school districts had a place to turn when looking for ideas on how to combine safety and healthy environment for students.