COOPERSTOWN, N.Y. — Clinching the World Series gives your fans and baseball followers many moments to relive your success. Now, the Washington Nationals historic postseason run will be captured at the National Baseball Hall of Fame and Museum in Cooperstown, N.Y.
The special exhibit in Cooperstown, New York, called "Autumn Glory" is expected to feature a variety of memorabilia that highlights the postseason success for the Nats'.
Items from the postseason run include:
The ball hit by Howie Kendrick off the right field foul pole for the go-ahead home run in Game 7
A jersey worn by World Series MVP Stephen Strasburg in his Game 6 victory
A cap worn by starting pitcher Max Scherzer in Game 7
The ball hit by Juan Soto for his Game 1 home run
A hoodie worn by manager Dave Martinez
A bat used by Anthony Rendon
The spikes worn by Kurt Suzuki
The glove used by reliever Fernando Rodney
A "Baby Shark" plush toy
The batting helmet worn by ALCS MVP José Altuve throughout the postseason, including when he hit his series-ending, walk-off home run in Game 6 of the ALCS
The bat used by Howie Kendrick to hit his grand slam in Game 5 of the NLDS
The glove used by the Astros' Michael Brantley throughout the 2019 season
#StayInTheFight: Nats' World Series memorabilia now on display at National Baseball Hall of Fame and Museum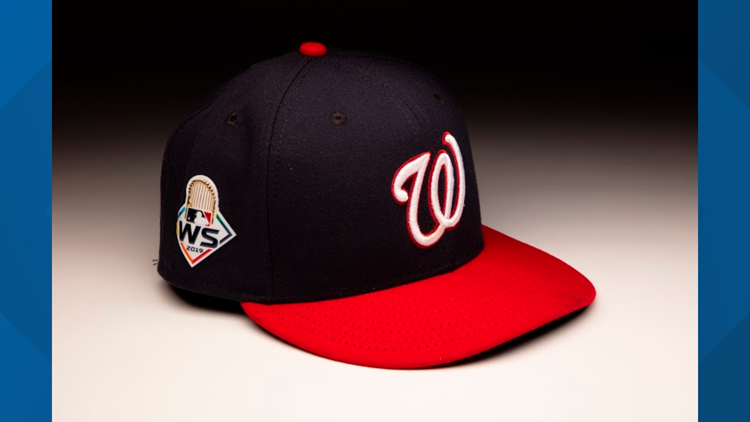 The exhibit for the Nationals is not the only thing that will display the success of Washington. Cooperstown is planning to also do additional programming in 2020 to highlight the team's success.
The Nationals won their first World Series as a franchise after going seven games in its matchup with the Houston Astros in October.
While the Nationals ended the postseason world champs, Washington started the regular season rough, with a 47-42 record before the July All-Star break.
Washington finished the second half of its season by winning 47 of its last 59 games. The team finished second in the NL East behind the Atlanta Braves, capturing an NL Wild Card spot.
Washington went on to win a Wild Card game against the Milwaukee Brewers, before capturing three series in a row against the Los Angeles Dodgers, St. Louis Cardinals and the Houston Astros.
The 2019 season for Washington was the first in franchise history where the team advanced in the postseason. Previously, it had always lost the postseason series in previous seasons.