WASHINGTON — Air and ground troops from the District of Columbia National Guard are being deployed around D.C., according to a release from military officials, and President Trump on Monday spoke about using the Gaurd nation-wide to stop violent protests.
The addition of the National Guard will add to the protection measures being seen near the White House by U.S. Park Police, federal police and D.C. Police Department, added officials.
"What happened in this city last night was an absolute distance, said President Trump in his address."
National Guard units have been seen in smaller about in Washington since this weekend. It comes after D.C.'s Muriel Bowser on Saturday said units could be deployed to help with protests in the District that erupted over the death of George Floyd by police in Minneapolis.
"The National Guard personnel are trained, equipped and prepared to assist law enforcement authorities with protecting lives and property of citizens within the District," said D.C. National Gaurd in a statement to WUSA9. "This is our home, and we are dedicated to the safety and security of our fellow citizens of the District and their right to safely and peacefully protest."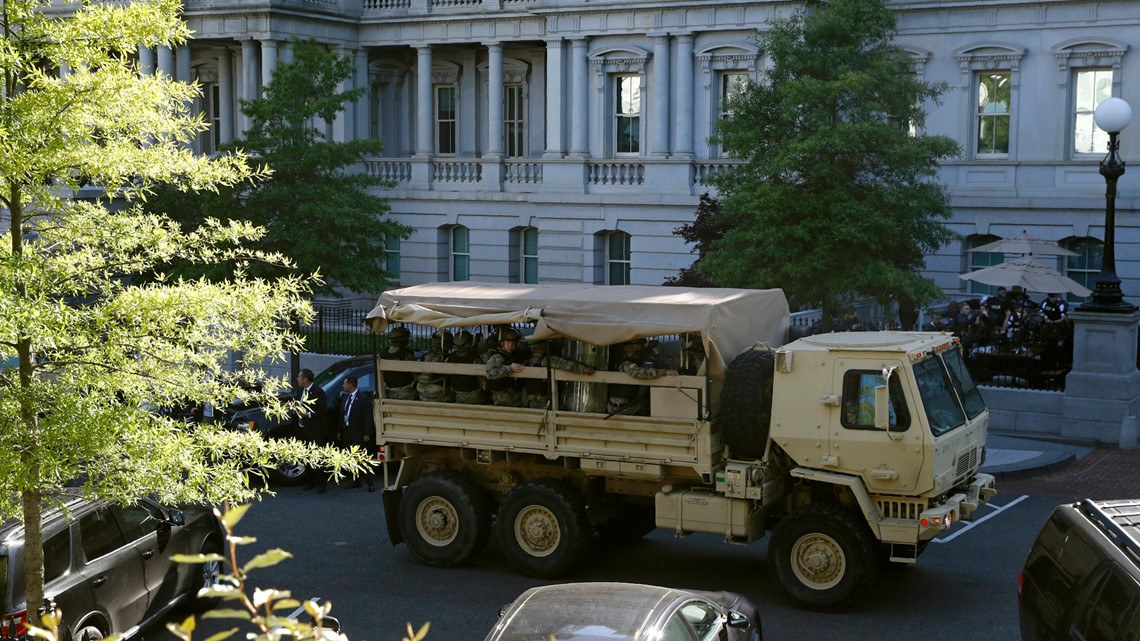 D.C. resident Zach Lowe captured the National Guard rolling down Massachusetts Avenue, Northeast, around 7 p.m. on Saturday. Other pictures and video have been posted of the National Guard in D.C. on Twitter and other social media outlets.
Protests erupted nationwide days after his death calling for the arrests of all the officers involved after a Memorial Day viral video showed Floyd being pinned down by his neck by then-Minneapolis police officer Derek Chauvin. Floyd, who is repeatedly heard in the video saying he can't breath and asking for Chauvin to get off his neck, died that day.
The Minneapolis mayor on Tuesday fired all four officers involved in the incident. On Friday, Chauvin was arrested and charged with murder and manslaughter in Floyd's death. But the other three officers who were involved in the incident have not yet been arrested or charged, with local prosecutors in Minnesota on Friday saying that charges are likely forthcoming.
D.C. was among cities across the nation who held protests Friday night demanding the remaining three officers involved in Floyd's death to be arrested and charged.
DC protests over George Floyd's death