WASHINGTON -- Inside the muted Northwest D.C. apartment of 38-year-old Daniel Hincapie are scattered memories of his late fiancée Wendy Martinez.
"It's comfortable, but still it can be empty," said Hincapie as he looked at a photo of him and Martinez hiking the Shenandoah Valley.
"There is no way to run away from the pain," Hincapie added. "I think it's more of a question about what they represent and what they remind you."
Hincapie tries to hold onto happier memories, but can't escape the day Martinez was killed.
"It was just a normal day," Hincapie recalled. "We had been exchanging details about our wedding. She said, 'I'm going for a quick run, buy some pork chops, and come back for dinner.' I said, 'I'm going to the gym, and I'll see you soon.' She threw me a kiss, and I went to the gym."
"I came back and she's not there," Hincapie said. "It's taking a little longer than expected. We have this find friends application in our phone and her location was just two blocks away from our apartment. She didn't respond to my text which was kind of unusual. But I saw her location so she's probably carrying a couple of bags.
He waited a few more minutes and tried to text her again.
"I check[ed] the phone and it marks [that] she's in the same location. And I zoom and I see that its marking in the middle of the street. That's the moment that I knew something was off," Hinacapie said, as tears began welling in his eyes.
He got dressed and began walking toward Martinez's location, which is noted on the app. It was just a few blocks from the apartment he shared with Martinez. Hinacapie could see a swarm of police cars and glaring lights.
"You're praying that nothing serious happened but the rational part of you knows that if you have a big police presence, something serious has happened," Hinacapie explained.
Martinez, 35, was stabbed to death while on that run. Police said surveillance video shows 23-year-old Anthony Crawford stabbing Martinez multiple times.
She managed to get away and stumbled into a Chinese restaurant where she collapsed. Patrons inside tried to help but there wasn't much they could do.
It was a random act of violence that claimed the life of a woman many loved.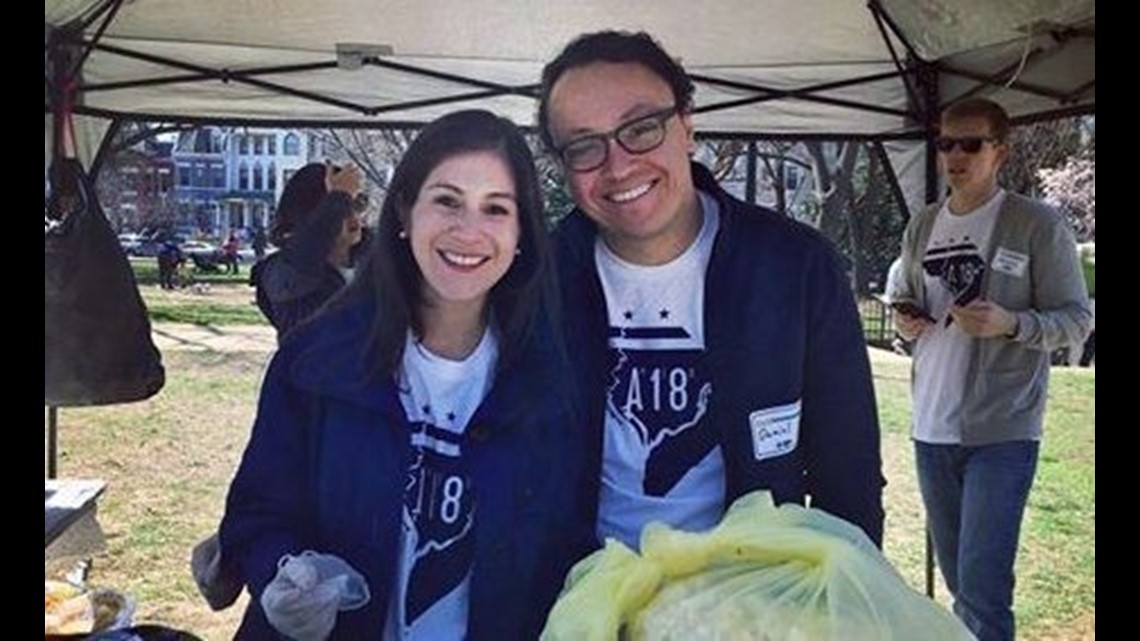 "It gets harder with time," Hinacapie said. "You're in the aftermath and you're facing this new reality -- which is definitely not the reality you planned.
Running is what brought the two together. He was introduced to Martinez when he needed help training for his first marathon. They trained together and eventually fell in love. Now, running for Hincapie is a form of therapy and way to remember the woman he hoped to marry.
"I cannot run away from this," Hinacapie. "There is no way to run away from this."
To honor his late fiancée, Hincapie signed up for the Boston Marathon. It's the same race Martinez was training for the night she was killed.
Hincapie spent two months training—running through the streets of Washington.
The marathon took the Hinacapie on a 26.2-mile journey through eight cities, 500,000 screaming spectators, over the course of more than five hours.
"I saw him coming through and it was my daughter coming through," said Cora Martinez. "I know he's going to get through the finish line."
As he crossed the finish line, he held up a large sign with four words:
Hincapie set his sights on a new challenge -- The Wendy Martinez Legacy Project. He, along with Martinez's family, started the charity as a way to keep the slain runner's memory alive. The charity formed with the purpose of supporting woman in technological fields and through running.
"Our partnership with GOTR-DC, which will teach girls to tap into their own strength and confidence through the sport [of running], is a fitting tribute to Wendy and a promise that her legacy will endure," said Hincapie.