WASHINGTON — WASHINGTON - There must be a lot of Caps fans in the alphabet soup of local and federal agencies that police the tightly restricted airspace over Washington.
A special exemption to the rules, which typically prevent news helicopters from flying over areas like Tuesday's Capitals Victory Parade route, was granted in an unprecedented 24 hours.
CAPS VICTORY PARADE: Relive the best moments
"Everybody was very positive all the way through the approval process," said WUSA9 Chief Photographer Erik Lee. He spearheaded the request last Tuesday, which ultimately led to aerial coverage of the crowds gathered outside Capital One Arena during Game 5 of the Stanley Cup last Thursday. It also led to viewers getting a bird's eye view of the sea of red in Washington Tuesday.
Photos: Caps Victory Rally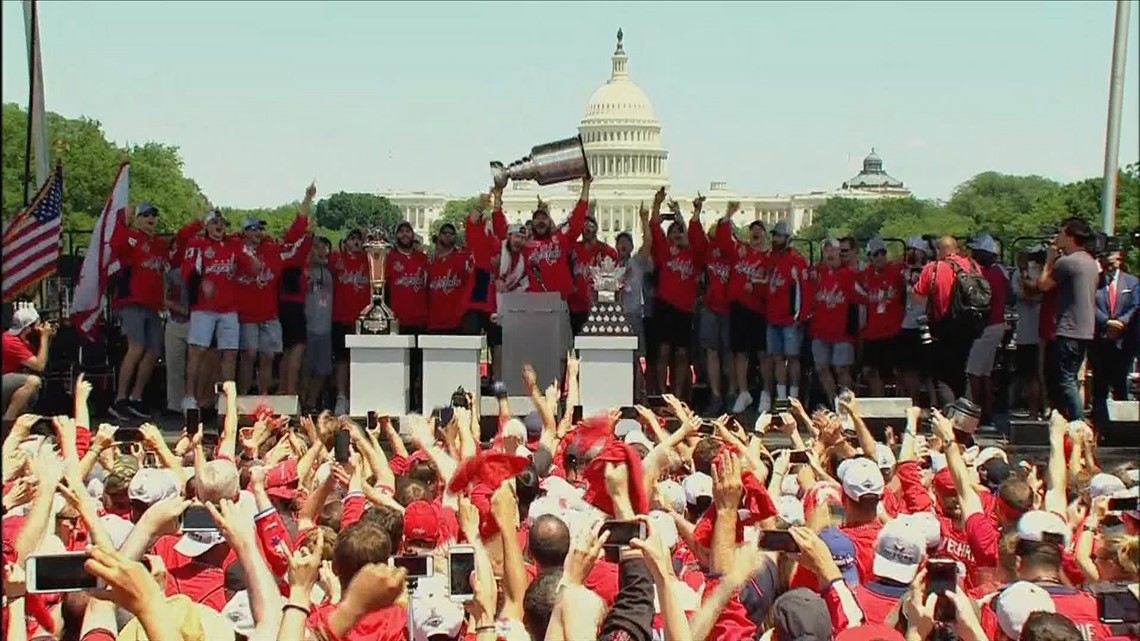 D.C.'s Office of Cable Television, Film, Music & Entertainment threw its support behind WUSA9 through a letter of approval. This key document was sent to the Department of Homeland Security to evaluate the helicopter crew and its flight plan.
"We're customer friendly," said Vikki Johnson, the city's film permit specialist. "It's our intention and goal to support the request if we can."
Johnson called this "rare." The office processes fewer than five such flyover requests each year.
PHOTOS | Sea of red takes over DC streets for the parade | TONS of fans showed up at the Caps victory rally and it was epic
"In this case it's really rare because of the timeline," said Seth Clute of Monumental Helicopters, which operated the helicopter. "The normal waiver process usually takes five business days, but there must be a lot of Caps fans in the government side because they got it back to us in less than 24 hours."
The helicopter crew had to carry a police officer on board and could not fly directly over the National Mall, U.S. Capitol or White House, which is subject to another layer of flight restrictions.
"There are very few people who could have pulled this off in such a short timeframe," said Clute. "It's very professionally satisfying."