THE LATEST: Fairfax County police now believe that the body of Jholie Moussa was found in an Alexandria park on Friday morning. Read the update here.
UPDATE: The FBI has now joined the search for Jholie Moussa. The FBI Washington Field Office has said detectives are examining cell phone data and speaking with Moussa's friends and family. According to police, they've spoken to 20 people who recently were in contact with Moussa, but many of those people have been uncooperative with investigators.
ORIGINAL STORY: A desperate family is pleading for the safe return of their 16-year-old daughter and twin sister.
Jholie Moussa was last seen by a family member on Friday afternoon at their home in the Mount Vernon area.
"We communicate all the time. So, the fact that I haven't heard anything from my child, that's not normal," cried Syreeta Steward, Jholie's mother.
Steward lives in Texas and flew into town to help find her daughter. Jholie and her twin sister Zhane live with their father, Cyrille Moussa, in Northern Virginia.
"The last time I saw her was in my room. She was doing my hair," said Zhane Moussa. "She stopped to text someone. After she stops, she says, 'I have to go, I'll be back real quick.'"
She said "real quick" several times, Zhane said.
Jholie walked out the front door and never came back.
Because both girls had told their parents they were spending the night at friends' houses, nobody grew concerned until Saturday when Jholie still did not come home. Her family said she made a comment about going to Norfolk for a party, but her friends in Norfolk have not seen her.
The girls' father said they've tried to trace Jholie's iPhone, but it went dead Friday night and she has not turned it back on, which makes them very concerned.
She also left the house without her iPhone charger or any extra clothes. She was wearing a black puffy coat with brown fur around the hood and black Uggs with black bows.
A neighbor saw Jholie standing near Richmond Highway a few blocks from her home Friday evening as if she was waiting for a ride.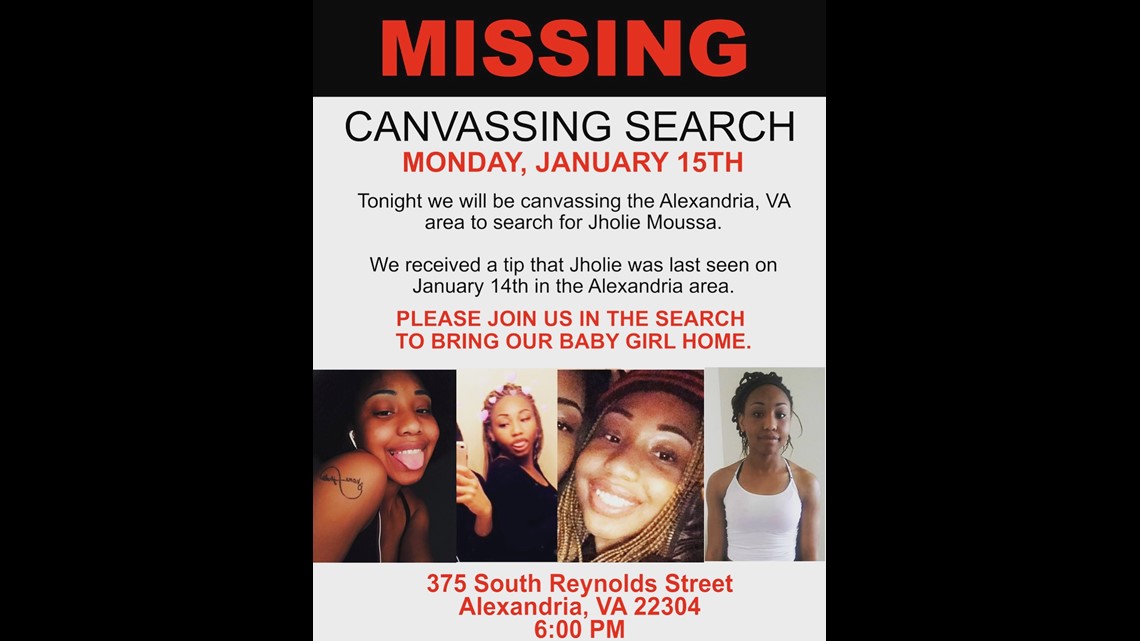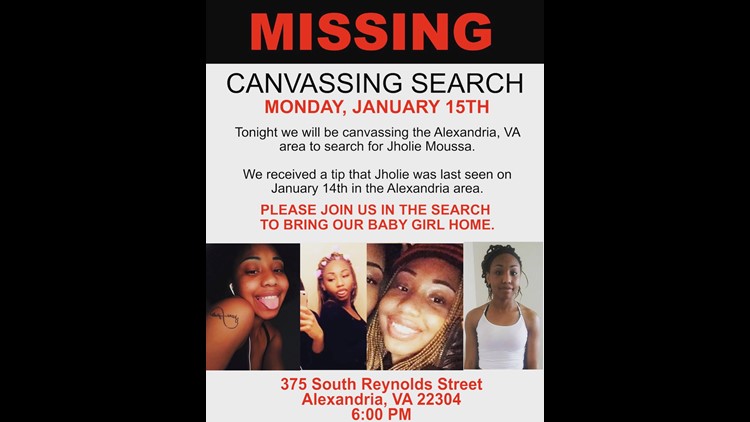 Another alarming piece of information is who may have called Jholie at 5 p.m. on Friday. She left their home at 4:45 p.m.. The 5 p.m. call came from the cell phone of a 12-year-old boy who lives nearby, according to Cyrille Moussa, who talked to the boy.
Cyrille Moussa said the boy told him that he was playing basketball in the neighborhood when another man asked to use his phone to make a call. The man was a dark-skinned man with short twist-curls in his hair.
"Why would this man do that? It seems to me he wanted to make a call that could not be traced to him," said Cyrille Moussa.
Fairfax County Police called Jholie's disappearance a missing person case, but it's classified as a "runaway" because she left the house voluntarily, and that's why police have not put out a missing person alert. But Jholie's family is worried she's being held against her will and could be in danger.
Fairfax County Police said they are actively working the case and trying to find Jholie.