SEATTLE — When the Governor Ralph Northam announced 25,000 high paying Amazon jobs were coming to Northern Virginia, the press release put out by his office said the new employees would get $150,000 a year.
But a closer look at the wording in the agreement Amazon signed with Virginia reveals that isn't exactly the case.
The memorandum of understanding, or MOU, says the "average annual wage" will be $150,000. Amazon told WUSA 9 to them, wage is defined as salary plus the cost of benefits, like health care and retirement. Those can total tens of thousands of dollars or more. Which means Amazon isn't promising paychecks worth $150,000 a year they're promising a compensation package worth $150,000.
And that's a big difference.
Also, note the use of that word "average" in the agreement. That means the "wages" for some jobs could be well under $15,000 as long some higher priced positions pad the average up.
Another question some have had is when the influx of Amazon workers will take place. According to the agreement it won't happen overnight.
The MOU predicts Amazon will hire the first 400 employees by the end of this year. A couple thousand more every year after that.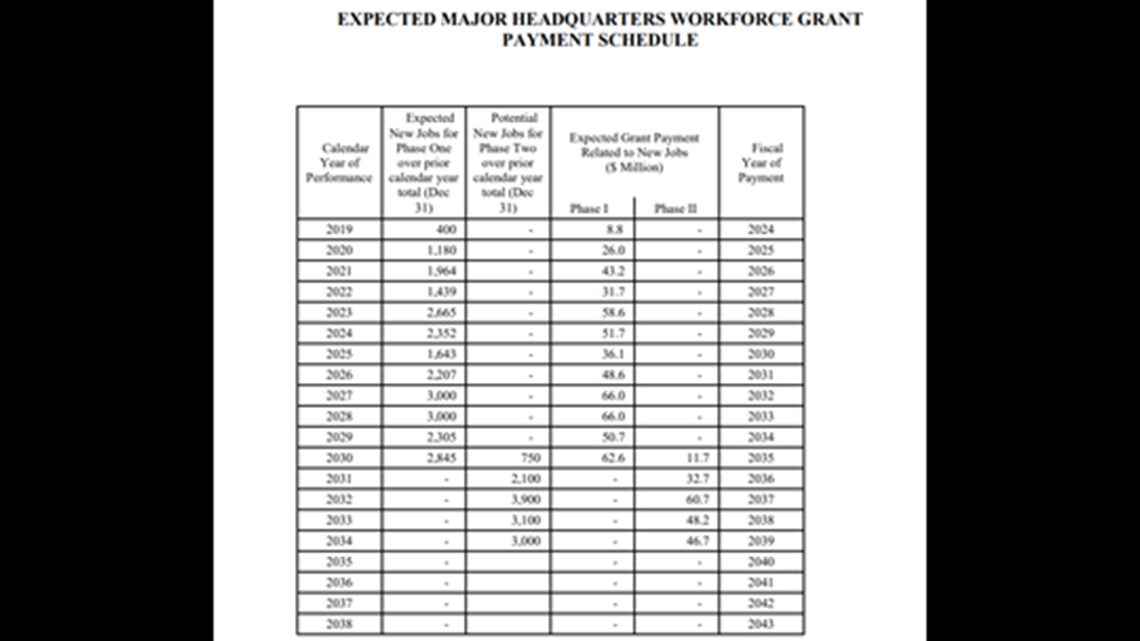 And for those worried about the congestion all those new jobs could bring, Amazon has the option to build a phase 2 of HQ2.
That could result in an additional 12,000 HQ2 positions for a total of 38,000 new bodies flooding into Arlington by 2034.
It remains unclear what the new Amazon employees are going to be doing in Arlington. Even Victor Hoskins, Director of Arlington Economic Development, doesn't know for sure.
"No, we're not," Hoskins said when asked if he was clear on what Amazon would be doing in Arlington. "And actually, some of these jobs, they don't even know, they aren't even sure of."
Amazon spokesperson Jill Kerr told WUSA 9 Amazon grows organically, and are still working out which departments will be in Arlington and which ones at the other half of their new HQ2 in Long Island City, New York.
Kerr said Amazon will be posting those jobs on their website in the coming year. But she said if people want to get a sense of what those jobs might be before then, look at job opportunities currently available at their Seattle headquarters.