Two moms have one mission. To save lives. Their daughters died tragically and violently in accidents with tractor trailers.
Now, the moms want to change laws to stop others from being killed the same way. But the halls of Congress have been filled with roadblocks.
Grief is the fuel that drives Marianne Karth and Lois Durso.
"Trying to make a change is one way we can honor our children," said Lois Durso, whose daughter Roya Sadigh, died when the car she was riding in slid underneath the side of a tractor trailer.
"It's exceedingly painful," Durso said. "It's a heartache. I know what heartache is."
Karth and her son survived the crash as they sat in the front where the car did not get crushed by the trailer.
"And I wish it had been me instead of them," Karth said. "They had their whole lives ahead of them."
In June the WUSA9 Special Assignment Unit began following the two moms on their mission. They visited congressional offices to try convincing lawmakers to pass stronger regulations for rear guards on tractor trailers. Additionally, they advocated for putting side guards on trailers as well.
Karth and Durso hoped to make their case to Sen. Cory Booker, D-N.J. They had an appointment with one of the senator's aides, but the office staff didn't have a place to hold the meeting.
So, the aide took the meeting down the hall. Literally. The three stood against a wall and talked.
"Oh we've had several meetings out in the hall," Karth later said.
"This happened a few times like that," Durso added.
"Yeah, we've sat in the lobby and had meetings as well," Karth continued.
The moms had to explain their mission while standing outside the office, despite the fact they were talking about one of the most personal things you could imagine: the death of their children.
The moms first met at a trucking conference in March. After realizing they shared the same tragedy, they decided to take their pain and passion to Washington.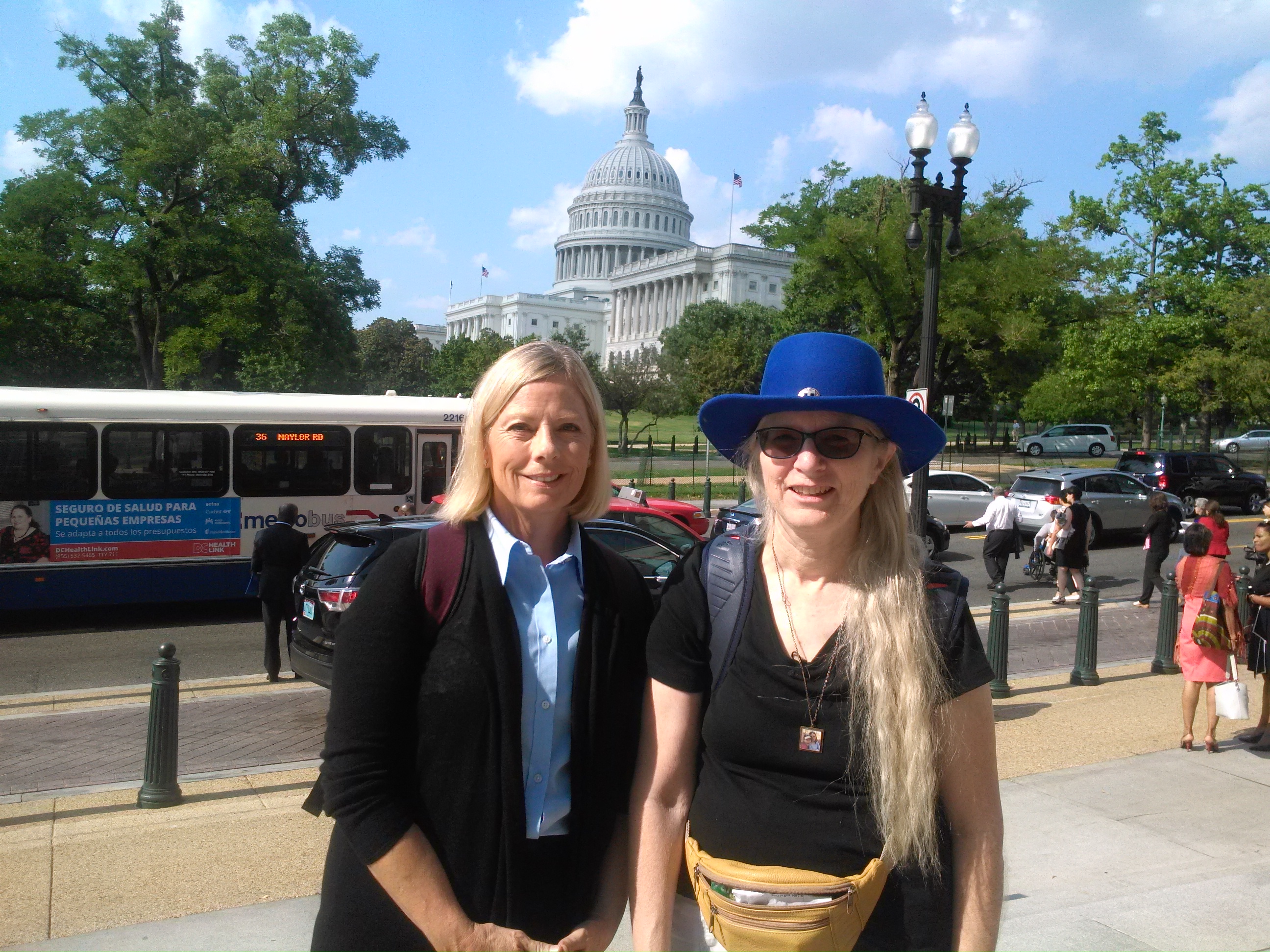 Over the last six months, the women have traveled thousands of miles on six separate trips to Washington. Karth comes from Raleigh, N.C. Durso makes the trips from Marco Island, Fla.
Based on crash tests, the Insurance Institute for Highway Safety believes truck guard upgrades could save hundreds of lives each year.
The WUSA9 Special Assignment Unit retraced the moms' steps for one day in July. The women visited nine congressional offices in five different buildings. They took two cab rides and dealt with security, staff directories and stairs. The 61 and 62-year-old moms ended up walking more than four miles over ten hours.
Insiders say this is the way Washington works. But outsiders like Karth and Durso are fighting so hard to break through the red tape, even their luggage can't keep up. A wheel on a suitcase broke off in the middle of the Longworth House Office Building.
"It's had a lot of mileage on it," Karth said of the suitcase. "It's been going all over the Capitol trying to save people."
They keep trying to send a message to the elected officials who have the power to make change. But until Washington changes, it's hard to succeed.
Out of the 36 meetings the moms scheduled with congressional offices, they've been granted ten face-to-face meetings with lawmakers.
Sometimes, they don't even get to meet with the right staffer. At the office of Rep. Mark Sanford, R-S.C., the initial appointment with the person in charge of transportation, called in sick.
So another aide stepped in. But he didn't have much time to hear their story. The meeting lasted 10 minutes and 34 seconds.
"It was too short," Durso said after the meeting.
"And it wasn't the transportation person," Karth added.
The WUSA9 Special Assignment Unit has also had little luck getting lawmakers to speak about the underride issue. The team reached out to more than a dozen members of Congress. But none of the lawmakers agreed to be interviewed on camera. One staffer said media requests from local districts get priority.
Jackie Gillan, President of the Advocates for Highway and Auto Safety, believes the issue is a critical one for congress to address.
"There is not a single Senator or Member of the House that doesn't have constituents in their state that have been needlessly killed or injured because of these underride crashes," Gillan said. "We're talking about these trucks really being roving guillotines on the road."
The Chairman of the Commerce, Science and Transportation Committee, Sen. John Thune, R-S.D., did issue a statement to the WUSA 9 Special Assignment Unit.
"In studying proposed new rules, regulators under Republican and Democratic administrations follow a process to identify potential unintended consequences and ensure that enhancements with the greatest impact for safety are prioritized. This evaluation is necessary and every year new road safety requirements take effect. I support NHTSA's efforts to examine and strengthen requirements for truck trailer underride guards along with other technologies that can prevent accidents and save lives. There is always room for improvement and our road safety regulators should continue to look at technology, improved equipment, and crash data to improve road safety."
"I think it's making a huge impact, I do," Durso said. "I think that people are listening."
Still, to actually get in front of a lawmaker, the moms usually have to stop one on the street. That's what happened with Sen. Ed Markey, D-Mass., walking into the Hart Senate Office Building.
"We've written a truck safety bill for underride. So we just wanted to say hello," Karth said to Markey.
"We're getting some momentum on it, and we'd like to meet with you about it," Durso told the senator.
"If you call Joey Wender, I'll meet with you," Markey told them.
But when the moms called for the meeting with Markey, they ended up getting a staff member instead. Because as it turned out, the senator didn't have time for them after all.
Advocates for Highway and Auto Safety hopes to partner on a bill requiring tougher underride regulations with Senators Chuck Schumer, D-N.Y., and Kirsten Gillibrand, D-N.Y.
According to the moms, Gillibrand's staff is in the process of writing a draft.
Meanwhile, Karth and Durso have drafted their own underride legislation but they're still looking for a lawmaker to sponsor it. It's called the RAMCUP Act of 2017. To read it click here.