WASHINGTON — A D.C. rec center playground used by a nearby elementary school was closed Thursday after elevated levels of lead were discovered.
In an email, DC Public Schools alerted parents that one of the playgrounds at Parkview Rec Center tested high for lead and it had been closed. The playground, attached to Bruce-Monroe Elementary School, sits on rubber mats.
Lead can result in health and growth problems if ingested by children. The District said it will power-wash the contamination away, but scientists WUSA9 talked with say that is not enough.
DCPS said it found the lead by washing off the playground and testing the runoff water during a routine test. Lead levels were 470 parts per million, above the federally "allowed minimum" of 400 parts per million.
"It would be nice if they put in materials in the first place that didn't have lead, that they used safe building materials," said Teresa Ellis who was picking up her child at Bruce-Monroe Elementary. "We want safe playgrounds for our children, for all the children in D.C. and all the different parts of D.C."
DCPS has consistently blamed the source of the lead on what it calls "the surrounding environment," including cars and construction. That playground is on a higher grade than the surrounding road.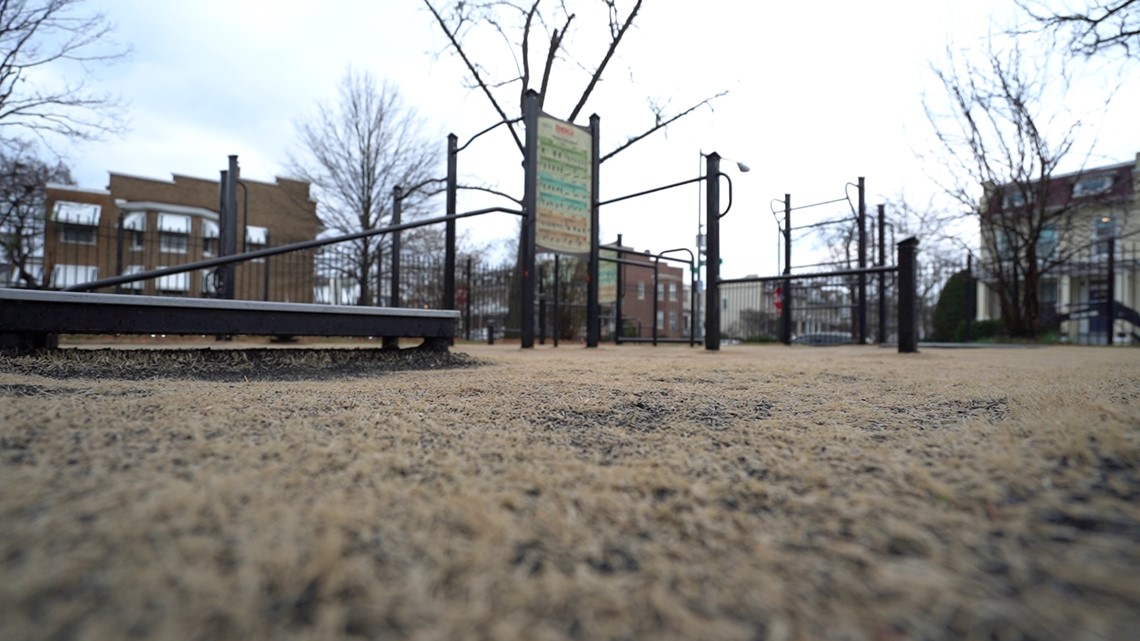 "At Park View Recreation Center, only the bulk wash water (rinsate) on one of three playgrounds (the one closest to Warder St NW with outdoor workout structures on it) had an actionable lead test result on the synthetic turf," Department of General Services spokesperson Dora Taylor-Lowe said. "The analysis of the rinsate enables evaluation of external chemicals separately from the playground material. An actionable result from this test means that the source of the lead on the synthetic surface is likely from the surrounding environment, not the playground itself. The other two lead tests (XRF samples and wipe samples) which test for lead in the synthetic material itself, did not produce actionable results."
Tests by The Ecology Center from 2019, first reported by WUSA9 three years ago, found the rubber chunks -- called crumb rubber or "poured in place" -- that made up the playground mats had lead inside them.
"It's really bad and it's something I feel like mulch or something could have fixed easily," said Akua Filardo, a parent of a Bruce-Monroe Elementary student.
After WUSA9's investigation, DCPS identified 18 school playgrounds with crumb rubber mats contaminated with lead in March 20202. The Department of General Services said it would stop painting its rubber playground mats, saying those had the highest risk for contamination.
DCPS said the other two school playgrounds at Parkview Rec Center passed their lead test and are still safe to use.
"Funding has been set aside for a modernization at Park View Recreation Center and the planning process is underway," Taylor-Rowe said. "Community engagement will occur before construction begins."