UPPER MARLBORO, Md. — Editor's Note: The video above is from Nov. 1 and is the first installment in an ongoing series about home appraisals in Prince George's County.
"I'm an older person and they always said throughout history, communities that are primarily black are lower value -- I don't believe that," said 'Jim,' a homeowner who asked WUSA9 not to use his real name because of his line of work. "But it is something that's very concerning because the house is the house. It doesn't matter who lives there. It should be valued at what it should be valued at, regardless of who lives in it."
Jim's story begins in 2012, when he and he and his family purchased a five-bedroom home in the Marlboro Ridge community. The sprawling community is known for its amenities and on-site equestrian center. It's a majority-black, high-end neighborhood. Jim is one of the few white men living in the neighborhood.
"I love this neighborhood, I love all my neighbors here," Jim said passionately, detailing the friendships he and his family have developed over the years.
Jim said he paid around $820,000 for his home in 2012. In the summer of 2021, he ordered an appraisal.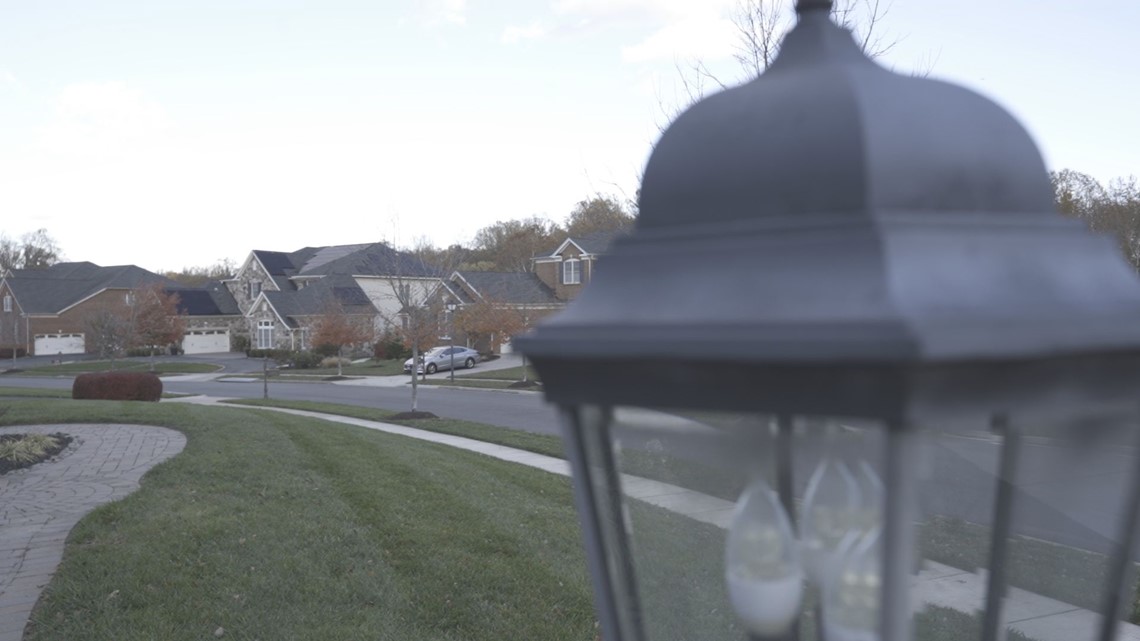 "We applied to do a HELOC loan, and so, we had the house appraised for that," he said.
HELOC stands for home equity line of credit, and it's a loan where homeowners can borrow against the equity accumulated in their houses.
"We filled out all of the paperwork with the credit union, and they ordered the appraisal," Jim said. "[The bank] said it would be a drive-by appraisal. An appraiser drove by the house, took pictures, and did an appraisal report."
A couple of weeks later, he received the appraisal report -- and a shock.
"When I saw it, I said it was pretty low," he said. "I said 'this is wrong.'"
The report said the house was worth $785,000, which was more than $35,000 less than what it cost his family to buy nine years ago.
Jim called the credit union, who offered to coordinate a full appraisal at his expense. He agreed to pay the $500 fee, which included a full walk-through of his home, taking measurements and annotating additions to the house.
"We've added solar panels on the roof, an emergency generator, we finished a wet bar in the basement," Jim said.
The walk-through appraisal came back at $920,000 -- $135,000 more than the first appraisal.
"It just amazed me," Jim said still visibly shocked by the difference between the two appraisals.
WUSA9 took Jim's case to real estate appraiser Jenifer Gausman for an outside opinion. She has more than 15 years of experience and is an expert in D.C. real estate, with a license in Maryland as well.
While Gausman was not involved in either of Jim's appraisals, has not seen his home, and did not offer a value determination, her examination of Jim's appraisal documents offered important information.
"They did a limited scope appraisal," Gausman said. "That's an even smaller scope than a drive-by [appraisal]."
She called the appraiser of Jim's initial report "thoughtful."
"If you just do a one-mile radius of his home, for the last 12 months, the median value is $750,000," she said after conducting her own research examining nearby homes with at least 3,500 square feet.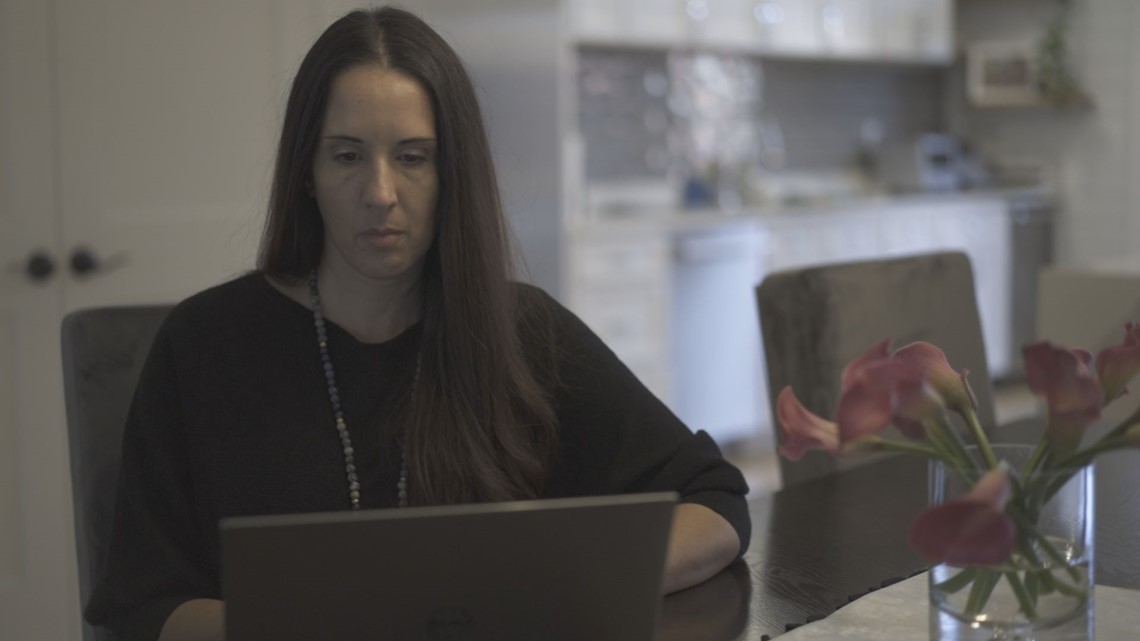 Gausman noted, however, that the appraiser used "comparables" -- or comps -- from 2020 although the house was appraised in 2021, meaning the comps were old.
"All of [the comps] are up to 2.5 to 4.5 miles away," she said. "I don't think it's a great report, but it's a limited scope appraisal. I don't think that that product is necessarily a great product."
Gausman explained when determining a home's value, she prefers to use recent comparables within months or at least the same year as the appraised house. She also prefers to find comparable houses within 1/3 mile of the appraised home, adding that closer comparable homes allow her to accurately reflect an appraised home's value.
To consumers, she recommended homeowners opt for a full appraisal, where a licensed appraiser goes into a home and inspects the property up close. The differences between Jim's limited scope appraisal and his full appraisal were clear.
"The person came into his house, and all of those comparables are from 2021," Gausman said analyzing the report. "[The comparables] are all within half a mile from his home. Those are the comps of his house. They are all over 5,000 square feet in size and his appraisal is $920,000. That is the report that is correct."
While some argue that the differences between reports are a form of appraisal bias, Gausman suggested other factors are at play. Often homeowners may not understand what similar houses in the neighborhood sell for or may think certain upgrades add value to a house when in fact they do not. She added appraisers are closely scrutinized making appraisal bias overall difficult.
"Our appraisal reports are governed by Congress and the appraisal board and the appraisal subcommittee," she said.. "We certify that our appraisals are unbiased with race, creed, religion, age, marital status, color, sex, neighborhood boundaries. So, while I am sure that there are bad people that exist in the world that want to do a mean thing to some person, I can't imagine that this could stand to exists."
The allegations of appraisal bias. however, caught the attention of Maryland Comptroller Peter Franchot. His office sent a letter to Maryland Attorney General Brian Frosh requesting an investigation after WUSA 9's initial reporting on the matter.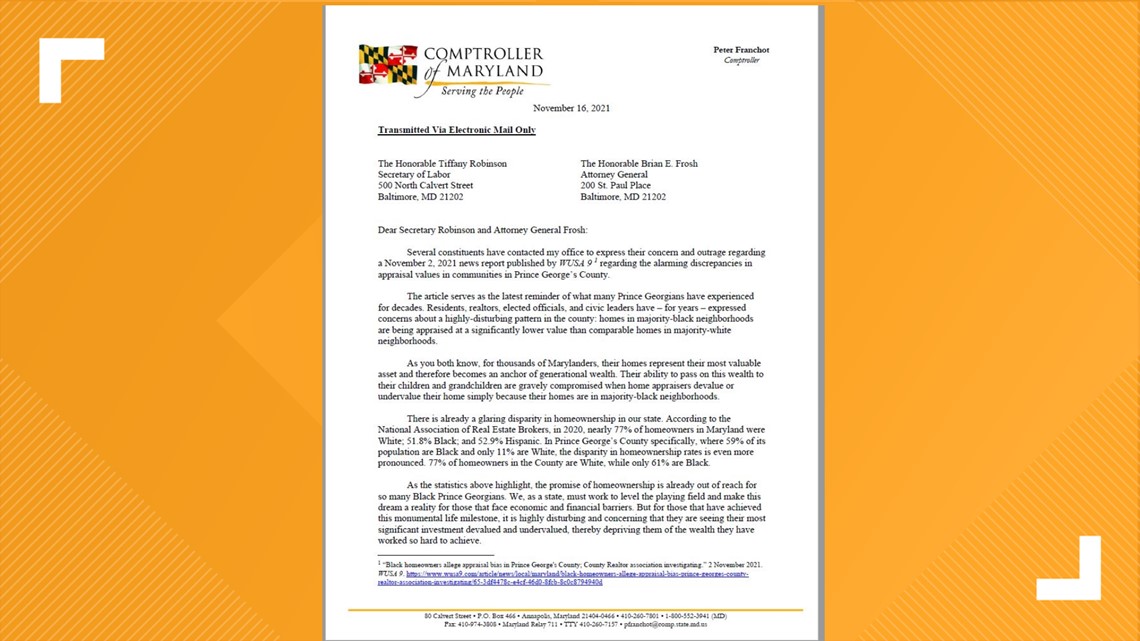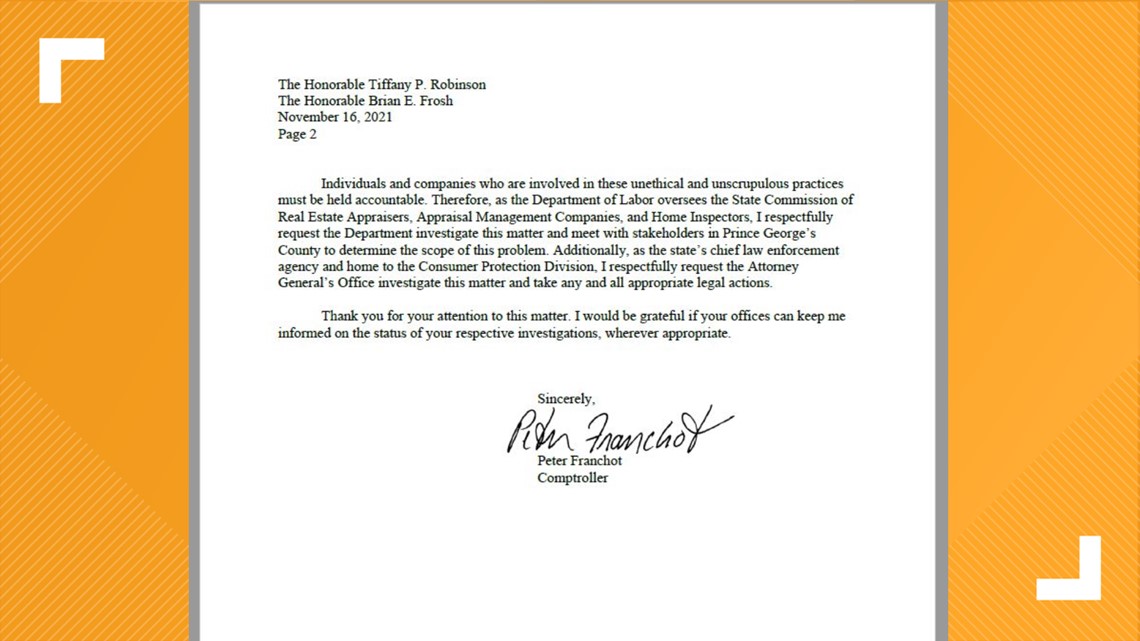 "…. I respectfully request the Department investigate this matter and meet with stakeholders in Prince George's County to determine the scope of this problem," Franchot wrote in a November letter to Frosh. "Additionally, as the state's chief law enforcement agency and home to the Consumer Protection Division, I respectfully request Attorney General's Office investigate this matter and take any and all appropriate legal actions."
Frosh's office had no comment when contacted. Many in the state are also counting on the full implementation of Senate Bill 859 to help address appraisal bias. The bill passed the Maryland legislature in early 2021. Part one of the bill would invest funds to help close the gap between construction costs and appraisals--an issue that's been well documented in Baltimore City.
"The second part of the bill mandates the Maryland Department of Housing and Community Development to initiate a study," said Maryland State Senator Antonio Hayes. "That study mandates that they drill down, all the way to the census level track based off of race, income, and a number of other factors that disproportionality of appraisals gaps here in the state of Maryland."
The financial investment portion of the bill is geared toward lower to moderate-income earners, meaning homeowners like Jim would see no financial relief.
Del. Marvin Holmes, whose district includes Prince George's County, said he's prepared to offer legislation during the next legislative session in 2022 to compile more data on the matter and re-examine the relationship between banks, appraisers, and homeowners in the appraisal process.
"When appraised values are less than what they really should be, not only do the residents lose but Prince George's County loses as well," said Holmes. "Our tax base is based upon property values. I can't imagine how much money Prince George's County is leaving on the table in terms of property taxes; money that could go to schools."
While stakeholders and homeowners work to create and implement solutions, Gausman recommends homeowners become experts in their neighborhoods. She added that if something is incorrect on an appraisal, request a reconsideration of value and be prepared to file a complaint if necessary.
WATCH: A home appraiser shows WUSA9 the appraisal process, and what they look for.