WASHINGTON, D.C., USA — In Washington D.C., Peeps have been a big deal this time of year.
Many can trace the interest in the sugary treats back decades, however the time-honored tradition of "peeping" – assuredly not nearly as bad as it sounds – started with a contest more than 10 years ago.
The Washington Post held a Peeps diorama contest at that time, and the city made it our thing.
Barbara Martin is one of those people who faithfully peeps each year.
"I've always loved sugar and I've always loved crafting," she explained. "So when I heard about the contest, I was in."
Working in PR, she started her Peeps journey with a diorama of one of her clients.
"I thought it would be funny and I thought they would enjoy it, and I didn't win," she laughed. She had spent months making the inside of a Dry Bar with peeps.
She never won the contest before it went out of style – the Post, tragically, stopped the contest a few years ago – but her tradition of peeping lived on.
"After the Women's March, I just got frustrated and tried to figure out like, okay, what's the thing I can contribute?" she explained. So she decided her peeps were going to #resist.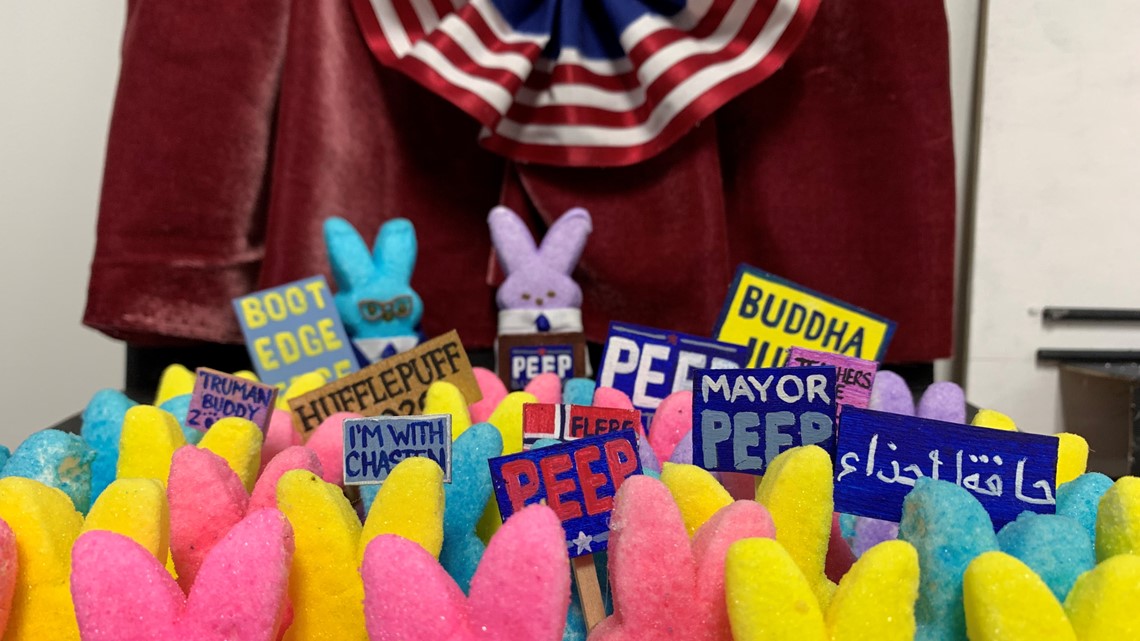 "I reserved the handle [@wethepeeple] and just kind of started making dioramas from there," she said.
She recently went viral for depicting presidential candidate Pete Buttigieg.
She's not the only one carrying on the tradition. The Washington City Paper picked up the Post's slack when it comes to Peeps contests and you can see all the winners here.
There was also a science-themed Peeps contest, and several other cities like Philadelphia are in on this now – but there's nothing like D.C. and how we can make just about anything…including Easter candy…political.
"So it's my contribution to the political conversation," Martin laughed.
Martin said she'll keep the tradition up the rest of year, but with less frequency.
After all, you can buy the treats on Amazon.