FAIRFAX COUNTY, Va. — Three to four inches fell per hour over the District, Maryland and Virginia on Monday morning, causing drivers to get trapped in high waters, road closures and sinkholes. The effects are still being felt on Wednesday.
RELATED: Heavy rain slams DMV, causes flooding, road closures and chaos
The following roads are closed in Fairfax County as a result of storm damage.
1300 block Kirby Rd at Sugar Stone: Road flooded and damaged – long-term closure.
3300 Prosperity Avenue: Road washed out -- This will take a day or two to repair.
The Virginia Department of Transportation said it cleared more debris from Kirby Road, but it will be closed for some time.
VDOT
More barricades have been added to keep people from going around the barriers to walk or bike on the damaged road.
Sign up for the Get Up DC newsletter: Your forecast. Your commute. Your news.
In Montgomery County, these roads are closed:
Fenway Road at Carderock: Closed; (Water Main Break – structural)
Wissioming Road at Tuscarawas Road: Closed - Structural Failure
Park Valley Road at Park Crest Drive: Closed – Structural Failure
The rainfall was so powerful that at least two sinkholes appeared after the storms. One sinkhole was reported at Fenway Road and Carderock Springs Road in Bethesda, Md. The other was reported on Belfast Road in Potomac, Md.
RELATED: Storm drain fails, leads to flash flood wiping out only access road to Maryland community
Belfast Road is the only access road into the community of approximately 75 houses. It has reopened, but caused a major headache for residents.
In Washington D.C., there were 15 water rescues.
RELATED: A month's worth of rain fell in the DMV in less than two hours Monday
July's average rainfall fell in less than two hours Monday morning. Nearly 10 percent of the yearly average precipitation in less than two hours.
RELATED: Waterfall in a Metro tunnel | Commuters gawk as floodwater storms station ceilings, elevator
RELATED: Pounding rains flood McLean roads, little league field
RELATED: DC FLOOD MAP: Where in the District has the highest risk?
PHOTOS: High flood waters in the DMV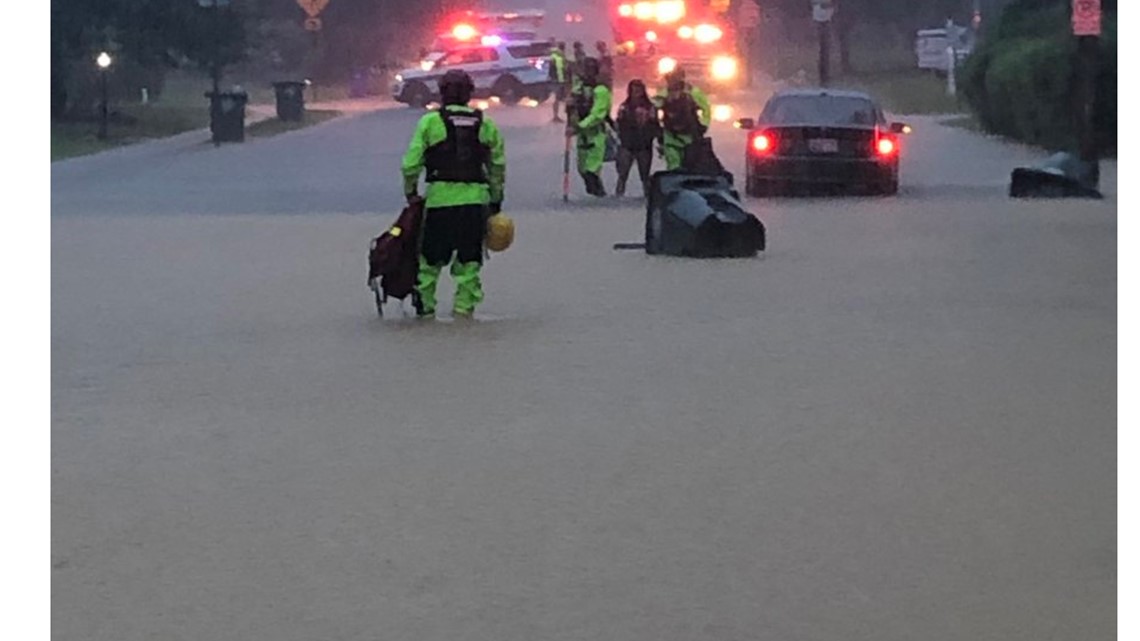 Sign up for the Get Up DC newsletter: Your forecast. Your commute. Your news.