WASHINGTON — AUTHOR'S NOTE: This story has been updated as of April 8 to account for new projections from the Institute for Health Metrics and Evaluation.
New projections from the Institute for Health Metrics and Evaluation (IHME) offer an improved outlook for how the coronavirus may impact D.C. and Virginia – but also project the State of Maryland could be hit even worse than before.
IHME is part of the University of Washington (state). Its projections were included in a White House press conference on March 31 when Dr. Deborah Birx, the White House's coronavirus response coordinator, said the U.S. could see 100,000 to 240,000 deaths from COVID-19 if social distancing is maintained. Without such efforts, health experts have projected the death toll could be in the millions.
IHME has published on its website detailed projections for all 50 states and the District of Columbia, including the number of ICU beds and ventilators that may be needed and when each state could hit the peak of the virus.
KEY TAKEAWAYS
D.C. may currently be at peak resource use from the virus.
Aggressive social distancing and medical surge plan may mean city doesn't experience a shortage in ICU beds or ventilators.
NOTE: The city has offered a more dire projection using a different model. Read about that here.
Maryland projected to hit its peak need for resources around April 17.
State projected to have a shortage of 300 ICU beds.
Could see 60 deaths per day from COVID-19 by the end of April.
Virginia now projected to see coronavirus peak by April 20.
Commonwealth now not projected to have a shortage of ICU beds.
IHME dropped its projection of Virginia's death toll significantly – down to 891 from 3,152.
See a more detailed breakdown of what IHME projects for the DMV, along with what we've heard from officials addressing these concerns, below:
DISTRICT OF COLUMBIA: April 9
IHME projects D.C. may currently be at peak resource use from the coronavirus. However, not everyone in D.C. is as confident.
The center originally projected that by April 4, D.C. could need 95 ICU beds for patients suffering from the virus, with an upper range of 113 beds. According to D.C.'s own hospital status data, at the time the city had 92 ICU beds available.
IHME's April 2 Projection for D.C.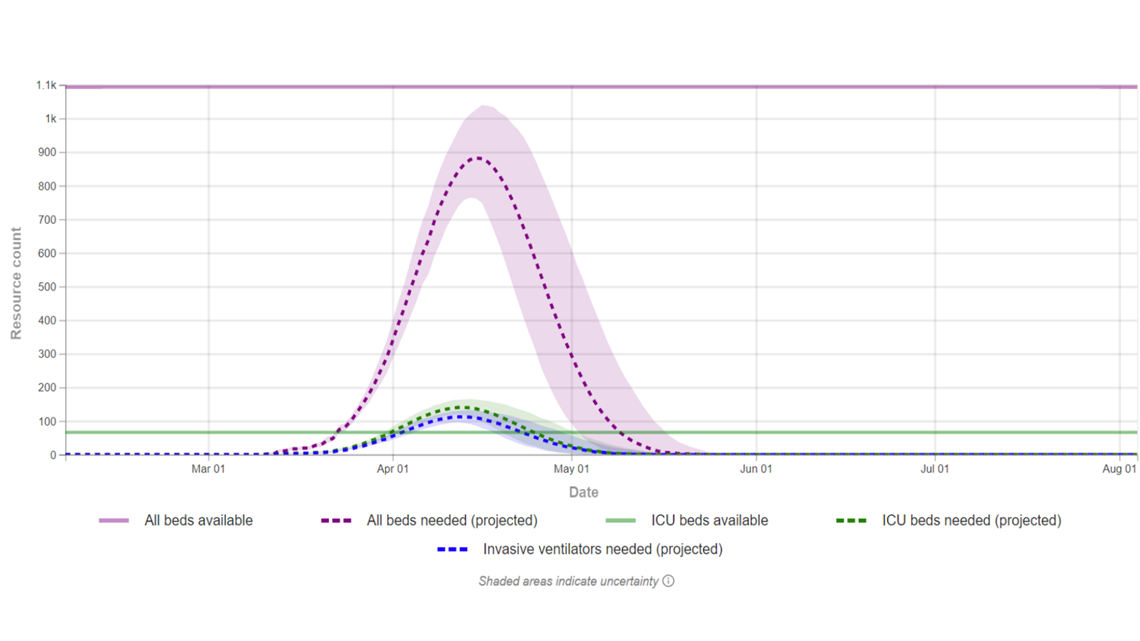 IHME's Revised April 6 Projection for D.C.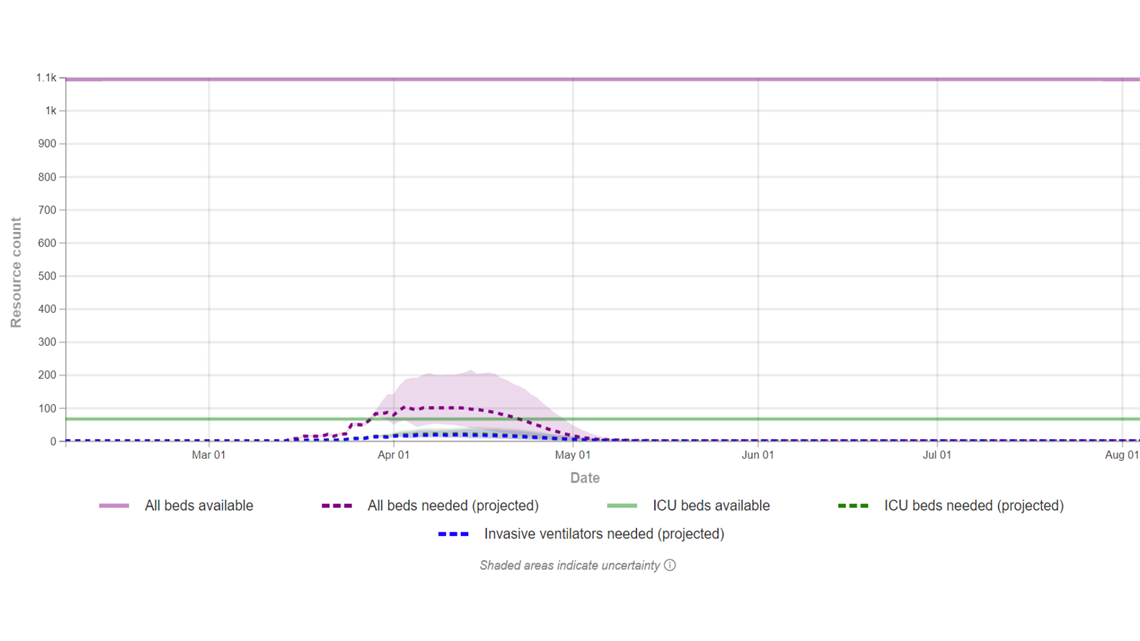 However, new projections released Sunday by IHME now expect the city not to run into a resource shortage.
Mayor Muriel Bowser and city health officials are operating off a very different set of assumptions. They are using the CHIME (Covid-19 Hospital Impact Model for Epidemics) model to estimate the number of cases in D.C. That model calls for more than 93,000 people to be infected by the virus, with the peak not coming until July.
On the ventilator front, IHME projects the city will have enough. Bowser has said that, right now, the city is roughly 1,000 short of what it would need for a worst-case scenario. At least one D.C. woman has already told WUSA9 that doctors urged her to rush her father's end-of-life process to free up his ventilator for other patients because of the coronavirus.
As of April 6, D.C. had reported 24 deaths related to the coronavirus. By August 4, IHME now projects that number could rise to between 35 and 101 – down from earlier projections ranging between 176 and 273.
MARYLAND: April 17
As of April 8, Maryland had reported more than 5,500 cases of the novel coronavirus.
Maryland reported the first five cases of coronavirus in the DMV, and has so far led the area in new cases. IHME projects that trend will continue for the short-term, with the state continuing to see a significant daily increase in cases through the end of April. IHME now predicts peak resource use could come as soon as April 17.
At that point, IHME estimates Maryland will need more than 2,800 hospital beds and more than 500 ICU beds, along with 465 ventilators. According to the IHME's numbers, that would put Maryland at a shortage of just under 300 ICU beds.
IHME's April 2 Projection for Maryland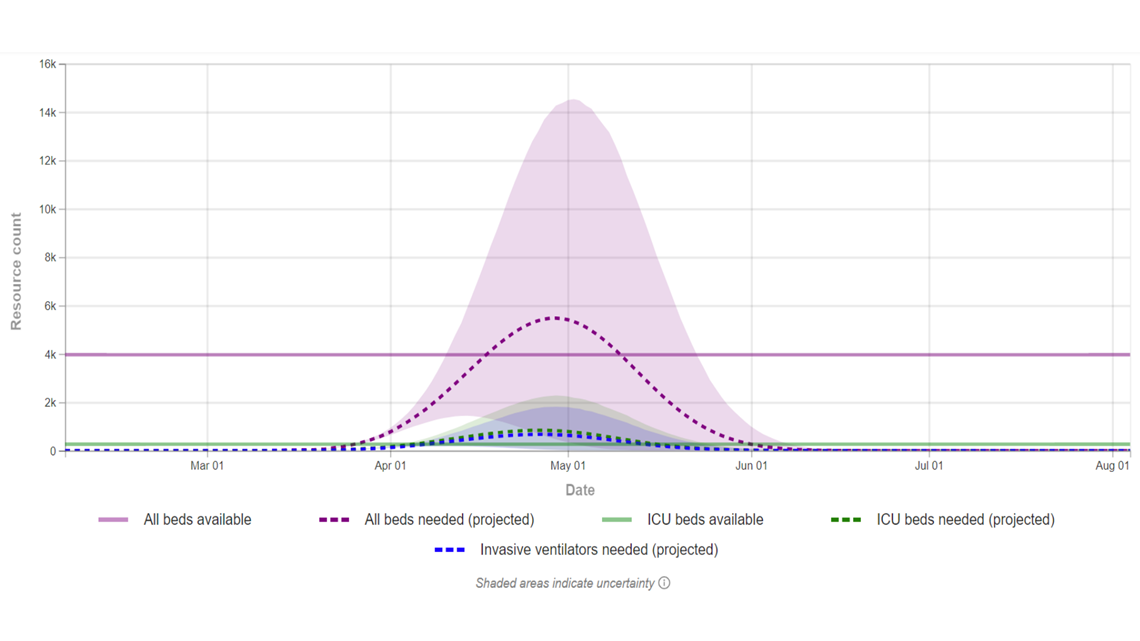 IHME's Revised April 6 Projection for Maryland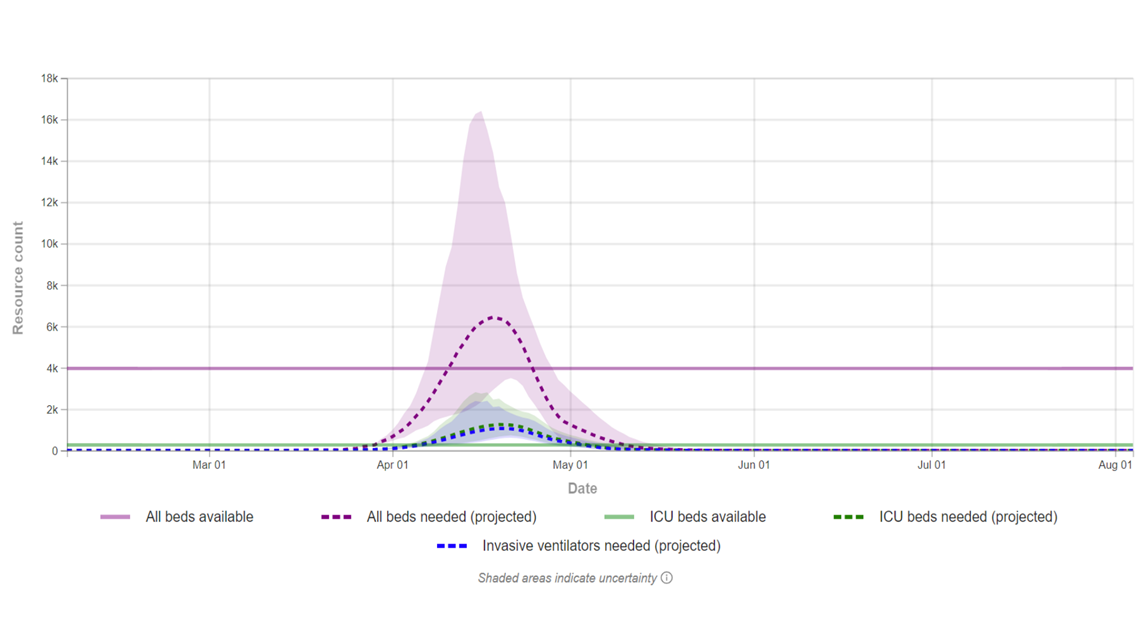 IHME now projects at its peak, Maryland could see 60 deaths per day from the coronavirus by mid-April By August 4, IHME projects Maryland could have 1,100 deaths – down from its earlier projection of 1,758 deaths.
VIRGINIA: April 20
The coronavirus pandemic may have the longest tail of the DMV in Virginia, according to IHME, although the center has updated its projection for the Commonwealth, now calling for peak resource use from the virus on April 20 – a month earlier than the previous estimate.
While IHME previously projected Virginia could have a shortage of more than 230 ICU beds, its revised projections estimate it will have just enough to meet demand.
A concern, though, as highlighted by a WUSA9 investigation last week, is that Virginia's medical beds aren't evenly distributed around the state. In fact, we found dozens of counties without any reported ICU beds at all.
The good news is that IHME predicts the Commonwealth will have enough ventilators to meet demand, even at peak resource use. IHME now estimates Virginia will need 272 ventilators for coronavirus patients at the height of the virus. A joint study examining data from the 2009 American Hospital Association survey found that, at the time, Virginia had an estimated 1,334 full-feature ventilators available. Virginia Health Secretary Dr. Daniel Carey has said that the Commonwealth's current supply is even greater.
IHME's April 2 Projection for Virginia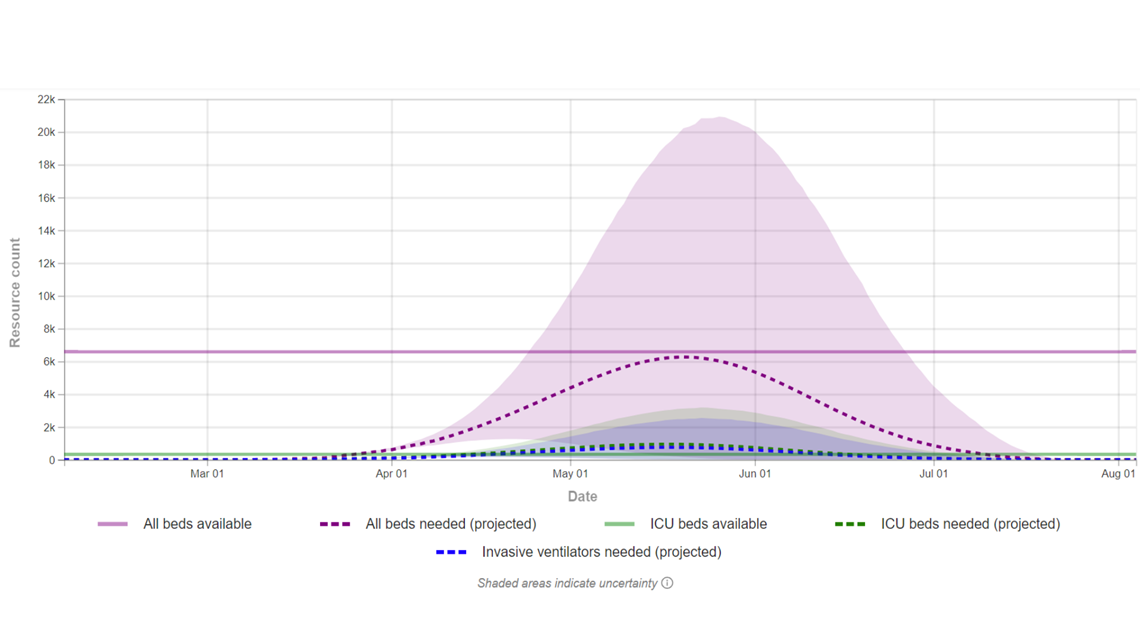 IHME's Revised April 6 Projection for Virginia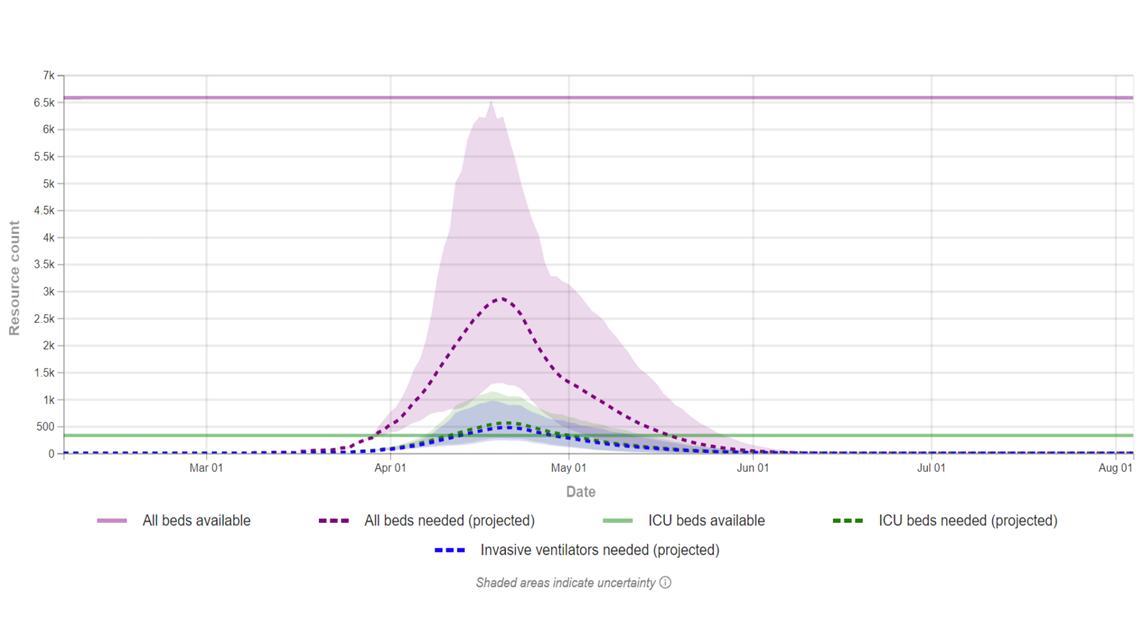 IHME also reduced its projection for Virginia's death toll from the virus. Where previously the center projected 3,152 Virginians may die by August 4 as a result of COVID-19 – IHME now projects 891 people could die from the virus.