WASHINGTON, DC (WUSA9)--Almost from the start, Joseph Jensen knew he wanted to be Catholic.  At an early age, while his parents slept, Joseph would sneak out of the house just to attend mass.  Since then, Joseph has dedicated his life to God and it has been a very long dedication. 
Before most of us wake up in the morning.  The monks at the St. Anselm's Abby in Washington, DC are already praying for our souls.  Their day starts at 5am.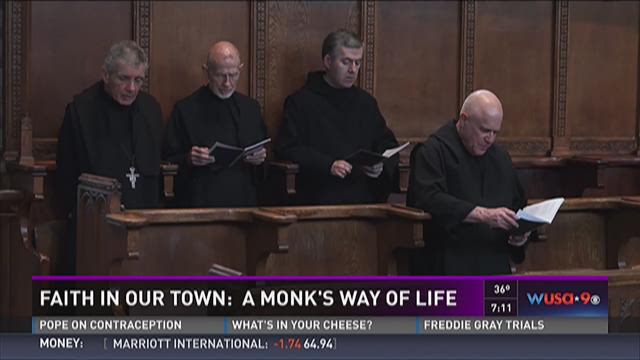 "We all meet in the chapel and pray together several times a day," says Father Joseph Jensen.
Father Joseph is 91 years old.  He has lived at this Abby for 70 years.   "Something you can't explain.  You have a conviction that this is what God wants you to do." 
Father Joseph lives with 16 other monks.  "God expects us to be doing something good in the world. All of us are given gifts and the gifts are not for ourselves they're for other people and we should be using them for that."
Throughout the years, Father Joseph has written four books and has taught scripture at Catholic University.  But, he has never collected one paycheck.  For 70 years every cent has gone to his faith.  He owns almost nothing.
His room is 12 feet-by-12 feet.  He spends most of his day here.  "I'd say the very least 14 hours, and probably more than that."
These monks have made more than a vow to God.  They've made a vow to each other.   When their work is done on earth -- they're all buried together -- in the backyard.  Father Joseph is positive his lifetime of prayers will someday pay off.  "It's been a rewarding life because I'm doing what I came to do."