BUFFALO, N.Y. — There have been a number of portrayals of the DC Comics supervillain Joker.
Ranging from Cesar Romero's (Timber Tramps, The Computer Wore Tennis Shoes) lighthearted run in the Batman television series back in the mid-sixties. Jack Nicholson (Hoffa, Blood and Wine) took a more sinister turn with the character in 1989's Batman. Heath Ledger (Monster's Ball, The Order) took Joker down a much more damaged and far creepier road in 2008's The Dark Knight, and Jared Leto (Requiem for a Dream, Fight Club) was much more suave, polished and unsettling as Joker in Suicide Squad. Now comes before us Joaquin Phoenix (Her, Inherent Vice) as Joker in what may end up being the definitive version of the character's origin story.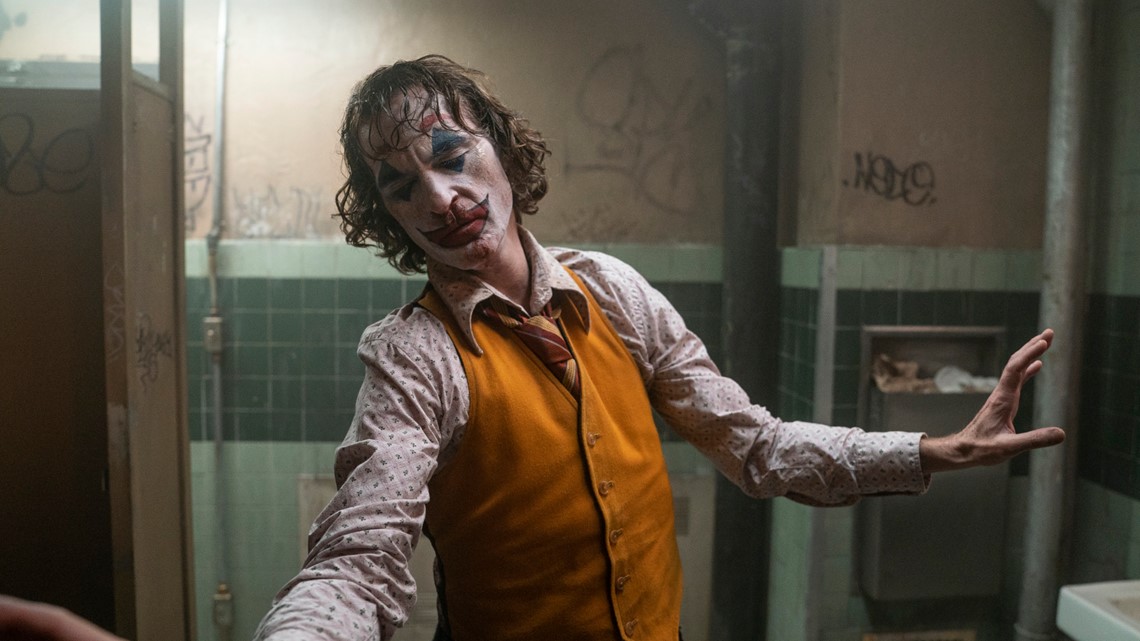 Gotham City has always been a pretty crummy place, a kind of compilation of the worst parts of New York City; a kind of existential urban crap-fest (Although the one in Tim Burton's (Dumbo, Big Eyes) 1989 Batman had some really interesting architecture). In any event, in the version of Gotham City instant, it's 1981 and the city is dealing with a weeks-long garbage strike and some incipient civil unrest from filth, unemployment and poverty. Arthur Fleck (Phoenix) is a barely-employed clown (yes, a performing clown) who aspires to standup comedy. He suffers from Pseudobulbar affect, a disorder that causes uncontrollable outbursts of laughter. Of course, he's under outpatient psychiatric care at Arkham Asylum, but that's not going well. He lives with his elderly and ailing mom (Frances Conroy, The Smell of Success, Stone).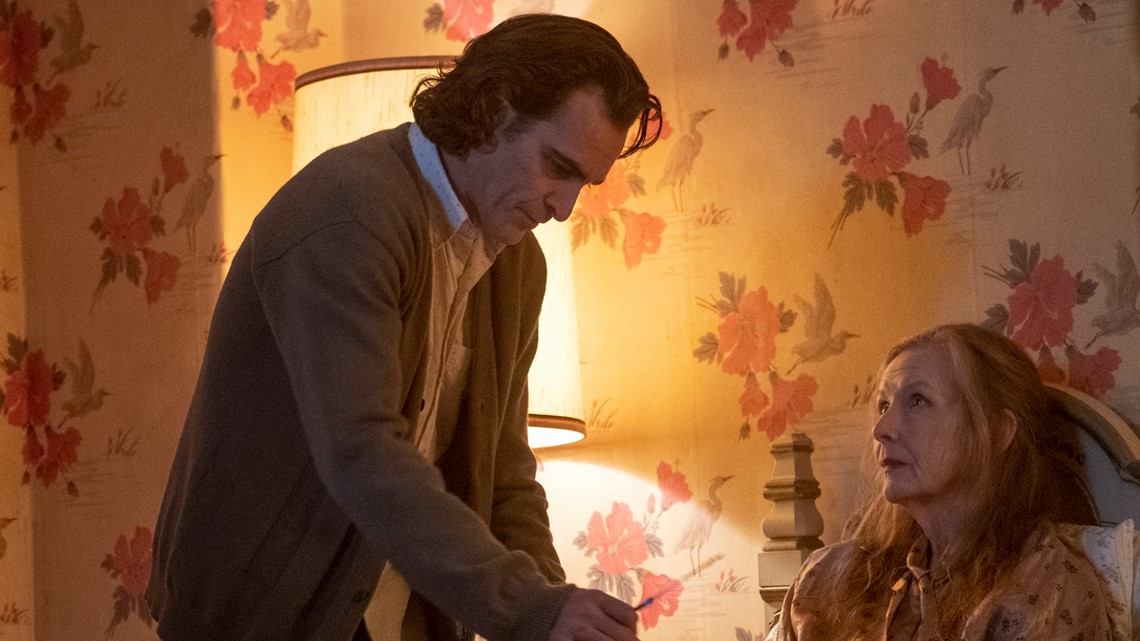 Arthur tries to take good care of his mom and together they watch the late-night talk show Live with Murray Franklin. That particular talk show is hosted by the aforementioned Franklin (Robert De Niro, Silver Linings Playbook, The Intern) and it is Arthur's fondest dream to appear on that show. Well, things start to go wrong for Arthur in a hurry. He's assaulted on the job and beaten by a bunch of teenage thugs. Feeling sorry for him, his co-worker, Randall (Glenn Flesher, Suburbicon, Rock the Casbah) gives him a pistol. Riding home on the subway, Arthur has a laughing fit and is accosted by three of Gotham City's swells. He shoots them. Since the subway car is otherwise unoccupied, Arthur escapes. That same pistol falls out of his clown costume when Arthur is doing a gig at a local children's hospital, so he loses his job. The social welfare program that pays for his psychiatric care is cut, so he loses his psychiatrist. Things just keep getting worse and worse for Arthur. He's going to crack, it's just a matter of when and how badly.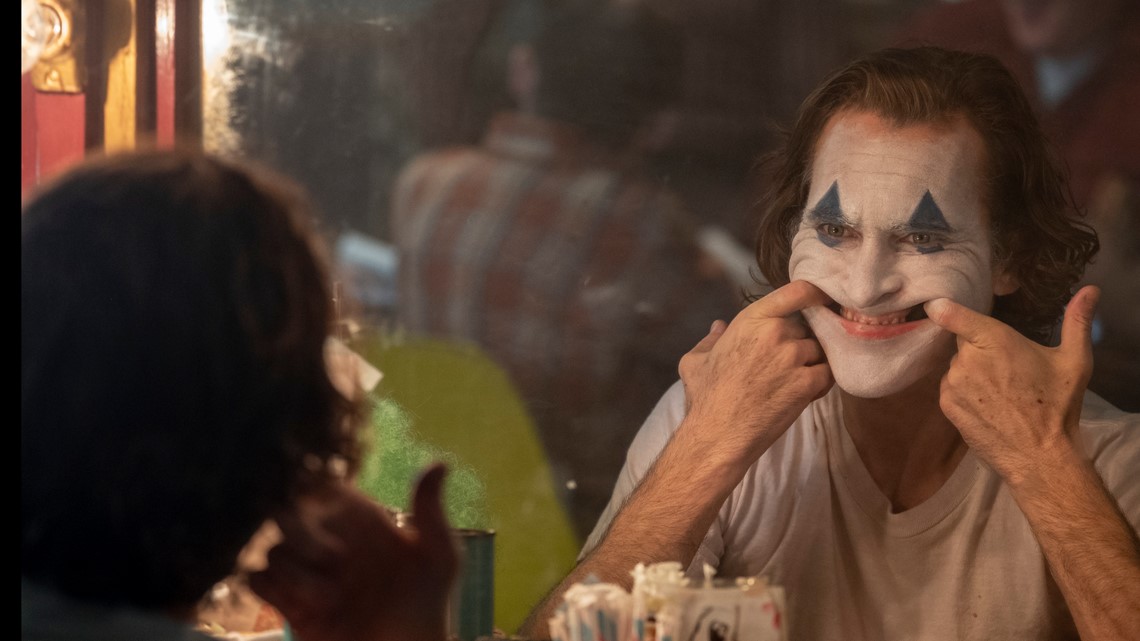 Joker is gritty and dark and all too realistic. There is no whimsy or anything really resembling fun. It is the least comic-book like movie based on a comic book character that this reviewer has ever seen (with second place going to 2009's Watchmen). This is a detailed depiction of one man's decent into violence and madness. As such, it is an extraordinary film.

The art direction and the writing do their fair share in making it so, but it is the performances, most notably Phoenix's, that drive this film to excellence. Phoenix's multi-layered depiction of Arthur is so detailed, so nuanced and so compelling that it wrenches one's heart in a way that a more fanciful portrayal could not. Arthur is flawed, tortured and eventually flat-out insanely evil in Phoenix's and director Todd Phillips's (The Hangover) hands. Joker lives in an awful place at an awful time surrounded by awful people and was mentally ill to begin with. Arthur writes in his journal, "The worst part of having a mental illness is people expect you to behave as if you don't."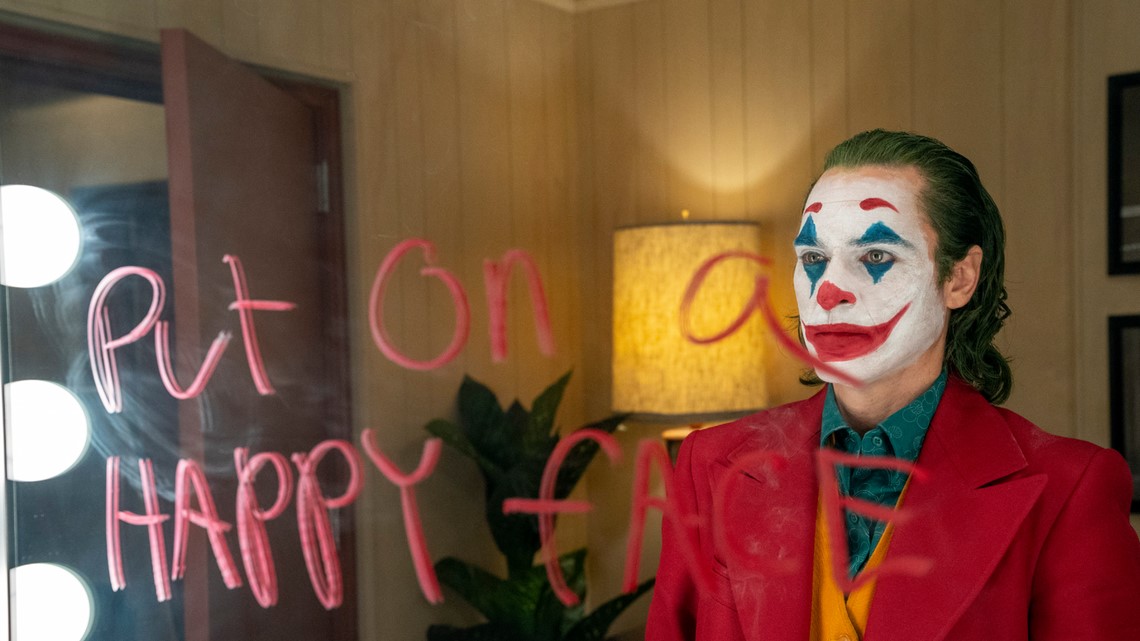 This is not a family film. This is not a film for children. This film is more than some supervillain origin story. It's the story of a damaged man driven to awful acts and as such it is relentless and powerful and worth 5 out of 5 boxes of popcorn.
Rated-R for strong bloody violence, disturbing behavior, language and brief sexual images and runs 121 Minutes
I'm Larry Haneberg, and I'm taking you 2 The Movies.