WASHINGTON — More than a decade after a 24-year-old mother of two went missing in Southeast D.C., a man accused of killing her was convicted on Friday.
Isaac Moye, 46, of Washington, D.C. was convicted of second-degree murder in connection with the October 2010 disappearance of Unique Harris, a 24-year-old woman who went missing from her home and whose body has never been found.
"More than a decade ago, two children lost their mother to a killer who had no regard for anyone's needs but his own," said US Attorney Graves. "Thanks to dogged police work by the Metropolitan Police Department detectives who worked this case, and the dedicated, tireless efforts of the prosecution team, a jury held this defendant accountable for this heinous murder."
According to evidence presented at trial, on October 9, 2010, Harris hosted a sleepover for her two young children and their 9-year-old cousin at her home in Southeast.
At 9:30 p.m., Harris put the children to bed.
At 10:39 p.m., Isaac Moye, a man she had only known for two months, showed up at her door, calling her phone just moments before entering her building.
The next morning, investigators say the three children awoke to find their mother gone.
Her cell phone and keys were also missing.
Police say her purse and all its contents, including identification and credit cards were left behind. Her eyeglasses she never left home without were also there in the home.
Detectives also noticed her sofa had been mutilated, a hole cut in the fabric, a section of foam removed.
There was no blood or sign of struggle. And police say Harris was never seen or heard from again.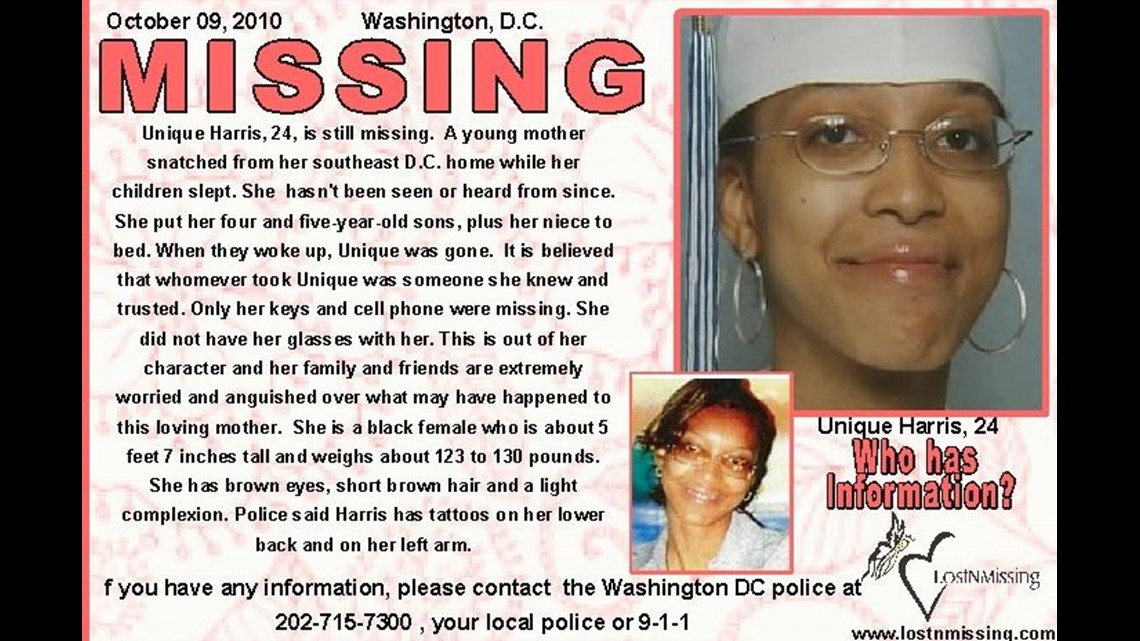 Over the next few years, the Metropolitan Police Department interviewed Isaac Moye several times.
Investigators say he changed his story between interviews, denying, then admitting, then denying that he and Unique Harris had ever been intimate, denying that he had ever been in her home overnight, and denying that had seen her the day that she went missing.
Police claim Moye's semen was identified on the mutilated sofa cushion and his GPS records placed him at the victim's home for the entire night.
Moye also told another person, who testified that Moye said there was a missing girl, but that police were "never going to find her" because he "did it, but did it the right way."
Harris was reported missing on October 10, 2010.
Moye was arrested and charged with the murder on December 19, 2020.
He has been in custody ever since and faces a maximum sentence of 40 years in prison, a fine of up to $250,000, and five years of supervised release.