We're in an active late winter pattern and another potential storm will threaten on Monday into Monday night.Below is the futurecast from both the European and the GFS. Both models currently show a system that is just far enough north to bring a chance of a light rain/snow mix to much of the region with heavier precipitation south and easy of DC.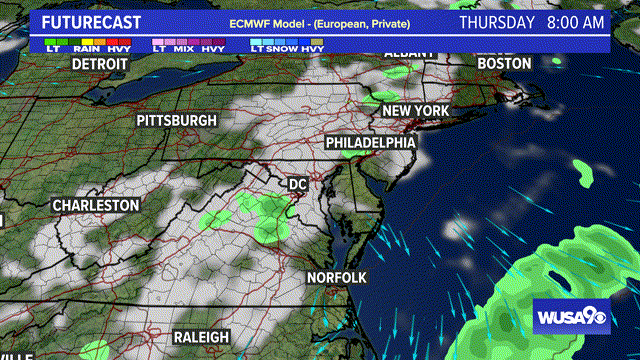 The latest European model shows both rain and snow during the day on Monday, with precipitation clearing early Monday night.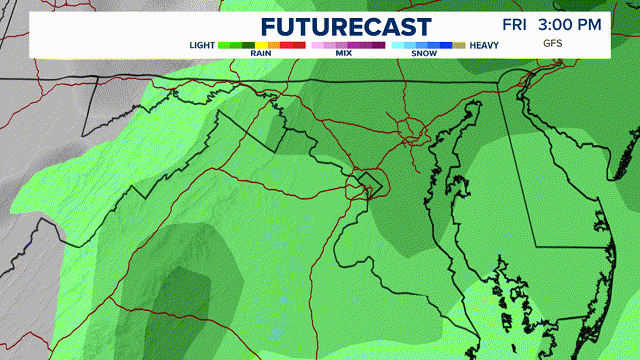 The GFS Model as of Sunday evening shows possibility of a rain/snow mix Monday into Monday night before clearing late Monday night.
Even with the prospects of a light rain/snow mix on Monday, most of the precipitation falling would melt on the roads during the day. Any snow that's still falling later in the evening could create slick roads as the sun sets. Regardless, snow will initially be melting upon reaching the ground during the day, but could begin to accumulate on grassy, elevated surfaces. Snow amounts could range from a trace to a couple of inches, with the heaviest amounts southwest of DC. It really looks like the impact in the DC metro will be little more than wet roads.
Note: The models are being generated every 12 hours in the case of the European and every 6 hours in the case of the GFS and these graphics are displaying the latest model data we have. These are also the "operational runs"...there are many members that make up the "model ensembles" and they could have different solution than the operational models shown here.