They thought he was buried on a beach resembling the solemn shores of Normandy – white crosses marking the dead on a sandbar U.S. Marines called, "one square mile of hell."
It was a Pacific atoll immortalized by photos captured in LIFE Magazine, an island where Navy Corpsman Howard Brisbane lost his life to a Japanese sniper Nov. 21, 1943.
The telegram came to the Brisbane Family just days before Christmas. Then came the photo of his resting place.
"I saw the picture where the grave was, with the white cross that said Brisbane," remarked Howard's niece, Judy Landry, in an interview.
FULL INVESTIGATION: Fallen & Forgotten: Why were these missing WWII heroes buried under pavement?
"So that was the end of it. We never knew he was missing in action."
But only days after Brisbane died, his grave couldn't be found.
His family never knew his white cross was gone. The Pentagon never disclosed his grave was under a parking lot – first paved by Americans as soon as 1943.
United States Navy
The Brisbane Family only learned the truth after speaking with WUSA-TV and the non-profit group of anthropologists called History Flight.
"Nobody said anything about a parking lot until you said it," Landry told WUSA-TV in June, hours after the Navy re-buried Brisbane in Arlington National Cemetery.
"I thought it was a dignified burial grave. I had no idea it was a memorial site that doesn't exist anymore."
Why the Pentagon failed to disclose critical details of the Brisbane burial site remains unclear.
But this month, officials indicated they are unwilling to change any policy concerning how families of the fallen are informed.
RELATED: Could your relative be MIA on Tarawa? Here's our WWII database
Interviews with family members, Defense Department officials and people familiar with the excavation of remains on Tarawa suggest a multi-tiered communication failure between the Pentagon and the family of the Navy sailor lost 74 years ago.
The Tarawa Atoll where Brisbane died is now replete with the wreckage of war. Shelled bunkers and gun turrets are only steps from shantytowns, trash pits, and American graves found underneath the sand.
PHOTOS: Tarawa past and present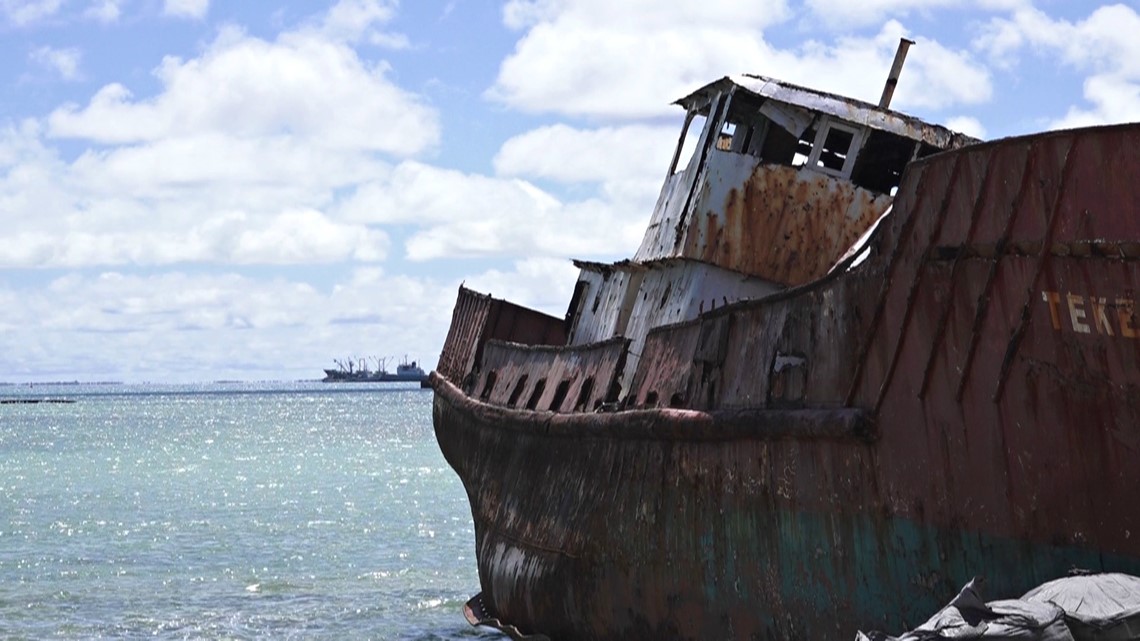 Each American grave marker on Tarawa is now cleared – a fact defense personnel never told the Brisbanes.
Six months after a top DOD official was made aware of the Brisbane situation, no plans changed regarding what the Pentagon reveals about American burial sites.
"The fact that I only found out about this today, it's unbelievable," said Brisbane's nephew John Bloemer in an interview. "That his memorial was wiped off the face of the earth so they could build a parking lot. It's unbelievable."
TIMELINE: The Battle of Tarawa & a family's journey to truth
An 86-page Pentagon report prepared for the Brisbane Family leaves out a host of facts detailing how the Navy sailor's grave was paved over by his fellow countrymen.
DOD researchers wrote in the report "massive reconstruction" on Tarawa's island airbase as soon as November 1943 caused Brisbane's grave to be lost for 70 years.
But what the documents fail to mention is that Navy Construction Battalions were ordered to pave over Brisbane's grave, as part of an effort to expand an airfield, build a new roadway, and clear a cargo area.
The changes can be seen in aerial photographs from March 1944, images kept by the National Archives. A summary of the construction is further outlined in a 1957 book commissioned by the Army's Office of the Quartermaster General.
U.S. Navy National Museum of Naval Aviation
Excerpts from the book are included within the Pentagon's report for the Brisbanes, but the selected passages lack specific details about what ultimately happened to Brisbane's grave.
Visiting the island in the present day also reveals the memorials once photographed by LIFE Magazine are now gone.
The site currently serves as a working seaport, where trucks and shipping containers were found on the lost American cemetery grounds. Private anthropologists from History Flight recovered Brisbane's remains in 2015, after mapping the area with ground-penetrating radar.
Brisbane / Landry Family
In an interview following Brisbane's June 2017 Arlington repatriation, then acting director of the Defense POW / MIA Accounting Agency (DPAA) Col. Fern Sumpter Winbush could not say why the Brisbane Family didn't know the whole story.
"Where we have found remains, in many cases, 70 plus years later, a lot has happened since that hero went down," Sumpter Winbush said. "I can't tell you why they weren't told it was a parking lot."
By September 2017, Maj. Gen. Kelly McKeague took command of DPAA, after Sumpter Winbush finished just over a year as interim director. McKeague is a retired Air Force two-star general, with a widely respected reputation across the defense community.
After WUSA-TV submitted multiple interview requests to discuss outreach with families of the missing, a Pentagon spokesman denied requests to speak with McKeague at Joint Base Pearl Harbor–Hickam, in Honolulu, Hawaii.
RELATED: Pentagon problems undermine recovery of MIA troops, as families wait 74 years later
Scheduling issues were also cited as reasons why the general could not be reached by phone or Skype interview.
But in a written statement after questions were sent via email, McKeague outlined what he hopes to change at DPAA.
"Change we are determined to make is to constantly seek methods to improve proactive communications with the families of our missing," McKeague said.
But those changes revolve around a new online case management system, where families of missing in action service members can review the status of search efforts.
As for why a television station, rather than the Pentagon, told the Brisbane Family about grave desecrations – those questions were answered by a DPAA spokesperson, not McKeague.
RELATED: Fallen & Forgotten
"DPAA did not know where Brisbane's remains were buried, thus there was no information to provide the family," the spokesperson said.
But a 98-page document submitted by History Flight to Defense Department officials suggests otherwise.
The report from 2015 meticulously details the parking lot and third-world conditions within the grounds of Brisbane's lost cemetery.
WUSA9
Further responses from the Defense Department seem to play the blame game, faulting military personnel who are known as service casualty officers (SCOs).
SCOs are charged with visiting family members and delivering the news when remains are matched with relatives' DNA.
"Service casualty officers for the respective branches of the military are responsible for providing information to family members about their relatives," the spokesperson said.
But the information the officers provide comes from DPAA, a point the spokesperson concedes.
"DPAA provides the information to the SCOs for transmittal to the families. Questions about the protocols and procedures regarding those notifications should be addressed to the service casualty offices."
PHOTOS: Excavating WWII servicemembers on Tarawa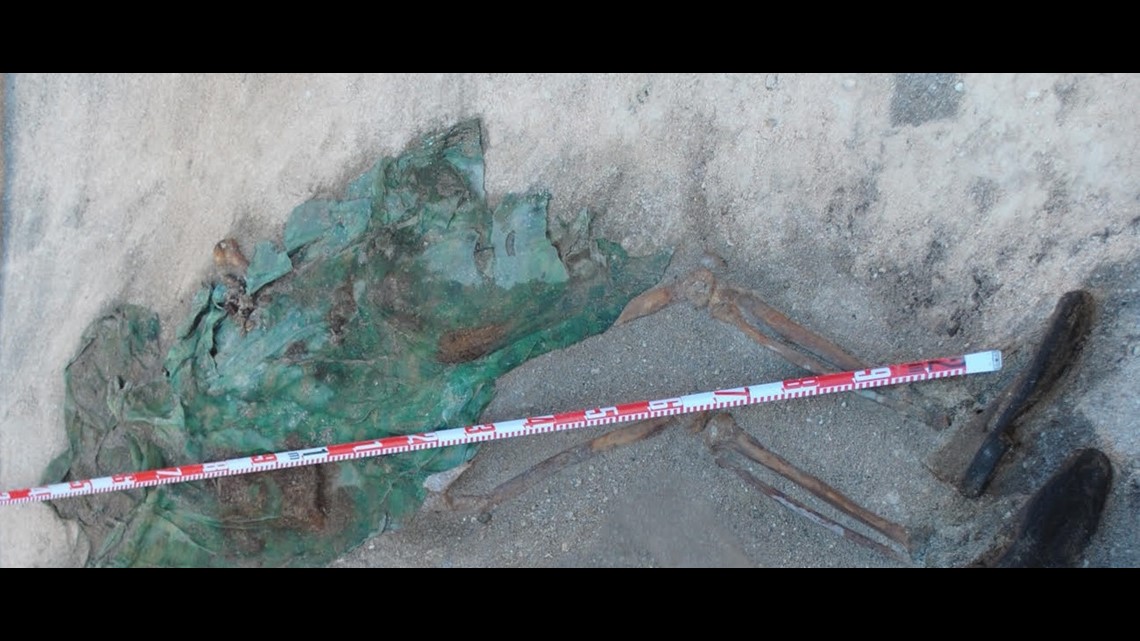 The combined efforts of DPAA and History Flight after more than a decade of research reunited Howard Brisbane with his family, returning him to America after two generations.
But the concealment of the truth, hidden behind the euphoria of Brisbane's return, left his descendants disillusioned and dismayed.
A palpable air of betrayal and bewilderment filled Brisbane's family members after his Arlington homecoming – as they wondered why the military omitted the most painful parts of his story.
"That I found out all this today! And I would not have if you weren't here," said John Bloemer, Brisbane's nephew. "This is a disgrace… And I can't say that enough without getting emotional."
WUSA9