WASHINGTON (WUSA9) — Tarawa is a small speck about 7,200 miles away from Arlington National Cemetery, part of the Republic of Kiribati in the Pacific Ocean.
There are picturesque scenes fit for a postcard, but the remnants of a horrific, bloody war remain. Sandy beaches and turquoise waters give way to bunkers, ghost ships, and extreme poverty.
RELATED: Why were these missing WWII heroes buried under pavement?
PHOTOS: Tarawa past and present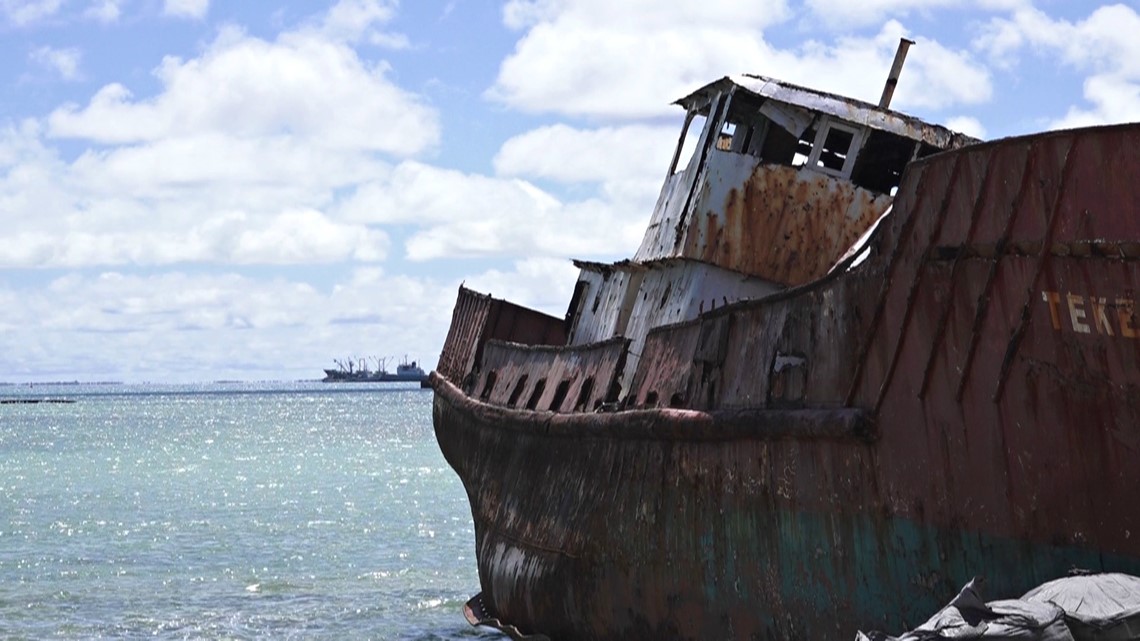 Here are eight facts you might not have known about Tarawa and the deadly battle that took place on its shore.
Tarawa is an atoll, a group of secluded islands – which are surrounded by coral – in the middle of the Pacific Ocean.
The island of Betio is the largest landmass within the Tarawa atoll, a sandbar the size of the National Mall. It became the prime target for U.S. forces to win back Tarawa.
The Battle of Tarawa lasted 76 hours. It spanned from Nov. 20 to 23, 1943 – just two days before Thanksgiving.
The battle was expected to be an easy victory for U.S. forces, but problems arose before they could even make it on land. Low tides meant several American landing crafts got caught on the coral reef, which was also lined with barbed wire and bombs. Marines and Navy sailors had to wade through chest-deep water up to 10 football fields long – all in the middle of intense enemy fire.
Because many Marines and sailors had to wade through water to get to shore, their radios became wet and useless, making communication on the island difficult to impossible. The military developed better waterproofed radios partly because of what happened on Tarawa.
Men of the battalions began calling Tarawa "one square mile of hell."
Tarawa was held by more than 3,600 Japanese troops. In the final hours of battle, they resorted to a suicide attack, choosing to fight to their death rather than surrender. All but 17 Japanese soldiers died in the battle.
Some 18,000 U.S. Marines were sent to capture Tarawa. In all, 961 servicemen were killed in the battle.
PHOTOS: Tarawa past and present
*Some facts courtesy History.com