Try making these healthy snacks with your kids to brighten up after-school lulls.
The kiddos will never realize they're getting a daily dose of nutrients through cooking and arts & crafts.
Peanut butter or cream cheese
Sliced fruits, grapes, blueberries, grape tomatoes
To make celery snails, fill stalks with cream cheese or peanut butter and top with a slice of fruit for a shell, and a cashew head. Use peanut butter or cream cheese to stick on eyes. To make caterpillars, fill stalks with cream or peanut butter and top with small fruits for body and head.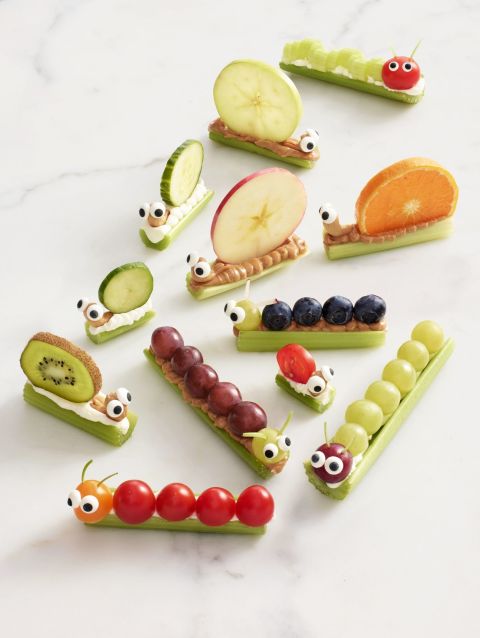 Chocolate Dipped Clementines
4oz of chopped bittersweet chocolate
Peeled and separated clementines
Melt chocolate in a microwavable bowl on the high setting for a minute in 20 second increments, or until melted. Dip half of each clementine into the chocolate, shake off any extra, and place it on a tray lined with parchment paper to cool.
You can repeat this recipe with bananas for more fun! Dip bananas in chocolate and add edible eyes and an m&m beak to make a chocolate dipped penguin.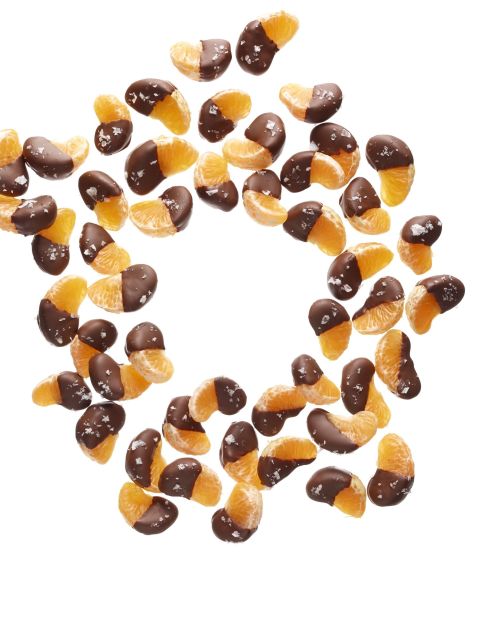 Cooking spray, for the pan
1 medium zucchini (6 oz.)
2 cups of all-purpose flour
4 tbsp. extra-virgin olive oil
1 10-oz. package frozen leaf spinach, thawed, squeezed dry and roughly chopped
5 oz. extra-sharp Cheddar, coarsely grated
3 scallions, finely chopped
Preheat oven to 400 degrees and grease pan. Grate Zucchini and add salt. After 10 minutes, squeeze out extra liquid. In a large bowl, mix flower, baking powder, baking soda, and the rest of salt. In another bowl, mix eggs, buttermilk and oil. Add the wet mixture to the dry mix alongside the zucchini, spinach, Cheddar, and scallions until just barely combined. Fill the muffin cups (note: they may look overfilled) and cook for 23-27 minutes, or until golden brown.
4 cups of chow mein noodles
2 tsp. extra-virgin olive oil
1/2 cups of Dried Cranberries
1/2 cups of white chocolate chips
1/2 cups of shelled roasted pistachios
Preheat oven to 400 degrees. Then, coat noodles and pepitas on a lined baking sheet with oil, cinnamon and cayenne. Toast for 5 to 7 minutes and cool. Add cranberries, chocolate chips and pistachios.
Individually wrapped string cheese
Fuzzy pipe cleaners, cut in half
Glue googly eyes onto clothespins first, to ensure enough drying time - and enlist the help of your little ones! Afterwards, fill one side of the snack bag with grapes and the other side with crackers. Pinch the middle of the bag to keep the contents separate and add the clothespin. Cut the pipe cleaner in half and fold it into an antennae. Add it to the top of the clip. Apply glue to the back of the cheese, and then firmly press onto the clothespin. Voilà!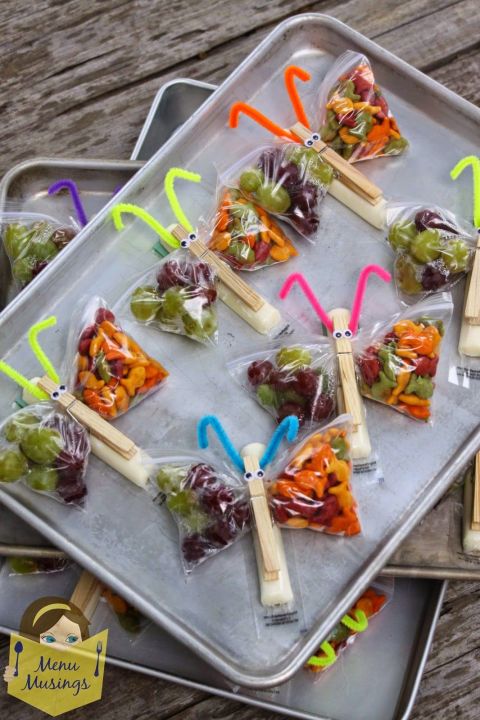 Apple & Peanut Butter Sandwich
Chocolate chips (or raisins)
Grab an apple, slice it crosswise, and then use a large pastry tip to punch a hole through the center to make an 'apple bagel' slice. Layer it with toppings on your choice, and apply another slice on top.
Thanks to Womans Day for the recipe tips!