The nonprofit says they're currently experiencing a shortage of space and staff, and say they're not the only ones.
"Shelters across the country are really experiencing a space and capacity for care crisis. We're really stretched thin right now," said Chelsea Jones, the senior communications specialist for AWLA.
She says there are a few reasons for why shelters across the country are facing this issue.
"Whether it's inflation, loss of jobs, loss of housing, there are a lot of reasons people are struggling. When people struggle their animals do too," said Jones.
That's why they're asking for adopters and fosters to step up. Especially for dogs and small companion animals like rabbits and guinea pigs.
From Friday through Monday, all dogs 6 months old or older and small companion animals, will be up for adoption at any price you feel comfortable paying. Name Your Price adoption fees mean the adopter decides what fee they pay to adopt a pet.
"You come in. You find an animal you're adopting and you tell us how much you want to pay to adopt them," said Jones.
The shelter says standard adoption policies and procedures apply.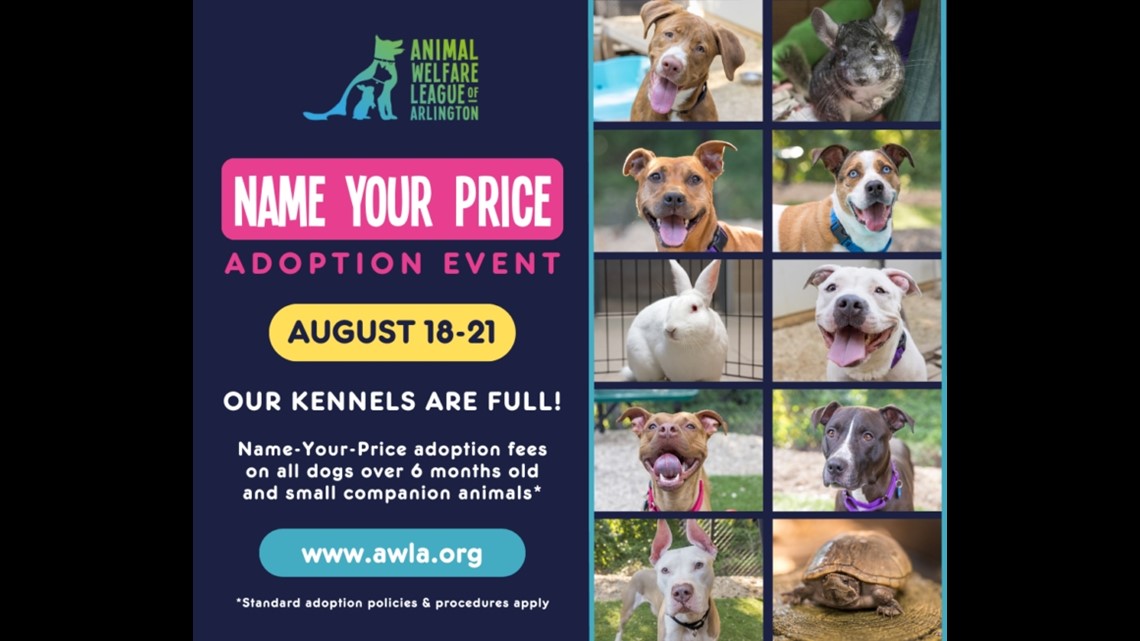 She says it's important to note, that the dogs lives are no in danger.
"Because we have such a supportive community we are not yet at the point where we have to start considering euthanasia for space. We have not had to do that in decades and that is not the plan for us but that we obviously need to do everything we can for that to continue to never happen," said Jones.
She added that living in a shelter can take a mental toll on the animals and encourages people to just stop by.
"Stop by and pay us a visit, you might meet the right one," said Jones.
The shelter is currently open to adopters Monday, Wednesday, Thursday and Friday from 12 p.m. until 7 p.m., and Saturday and Sunday from 12 p.m. until 4 p.m. Adoption hours are closed on Tuesday.
Anyone unable to foster or adopt a pet can support the Animal Welfare League of Arlington by donating online.
At least two rabbits have been struck with what appear to be blow darts, according to the Animal Welfare League of Arlington.