WASHINGTON — Political protests and marches aren't new to D.C. But few have created as much media frenzy and social media uproar as that of the Women's March, which hit the National Mall for the first time in 2016 with record attendance
The March is back and ready to take action for its fourth year, this time with a twist: a pre-week program jammed pack with themed discussions and group events. Participants can look forward to everything from drag brunch to poster making, community art builds and lectures on a variety of topics like climate change and reproductive rights.
Want to attend some of the pre-March activities? Here's the agenda:
Sunday, Jan. 12 - Community Art Build, 10 a.m. - 4 p.m. at the Stew.
Art supplies will be provided, and you can expect poster making, flag printing and banner printing.
Monday, Jan. 13 - Why Women Lead on Climate discussion, 6- 8 p.m. at the Eaton Hotel. The discussion will focus on women leaders who have impacted their local communities with policy solutions on climate, and how women can get involved
Tuesday, Jan. 14- Reproductive Rights, Health and Justice, and 2020 Landscape discussion, also 6 - 8 p.m. at the Eaton Hotel. Leaders of the week's festivities said this discussion will be interactive, with content focused on discriminatory in health care and how reproductive health rights have changed.
Wednesday, Jan.15- Solidarity and the Immigration Justice Movement, 6- 8 p.m. at the Eaton Hotel. Similar to prior discussions, but with emphasis on human rights violations and justice efforts, as well as connecting participants with resources.
Friday, Jan.17- Youth Rising 2020 at the Outrage on 14th St. Event starts at 5:30 p.m. and will go until 8 p.m., and is the "official youth arm" of the Women's March. Younger marchers can talk to activists and make new friends with the group's Speed-Friending session. Consent forms are needed if you're under 18 and can be found here.
Okay, cool. But what about the actual March?
The official Women's March will kick off that Saturday, Jan. 18 at 11 a.m. starting at the Freedom Plaza. For updates on the March schedule and programming, participants are encouraged to text "Women Rising" to 40649.
The day after the March, activists are hosting a "Fourth Wave Drag Brunch" back at the Eaton Hotel. Marchers can meet the Women's March Board, with honorees like Congresswomen Ayanna Pressley, and eat together. According to March organizers, tickets are going fast.
The Women's March is scheduled to close roads from Farragut Square and McPherson Square to the area near the Washington Monument, including 17th Street, Northwest, 15th Street, Northwest, and Constitution Avenue, Northwest near the Ellipse from as early as 6:30 a.m. Saturday to 4 p.m. Saturday.
The following streets will be posted as 'Emergency No Parking' for the event from 6:30 a.m. to 4:00 p.m.:
17th Street between H Street, Northwest and Independence Avenue, Northwest
Constitution Avenue between 18th Street and 15th Street, Northwest
15th Street between H Street, NW and Constitution Avenue, Northwest
H Street between 17th and 15th Street, Northwest
E Street from 14th Street, Northwest to 13th Street, Northwest
Pennsylvania Avenue, Northwest from 15th Street, NW to 12th Street, Northwest
13th Street, Northwest from E Street, Northwest to Pennsylvania Avenue, Northwest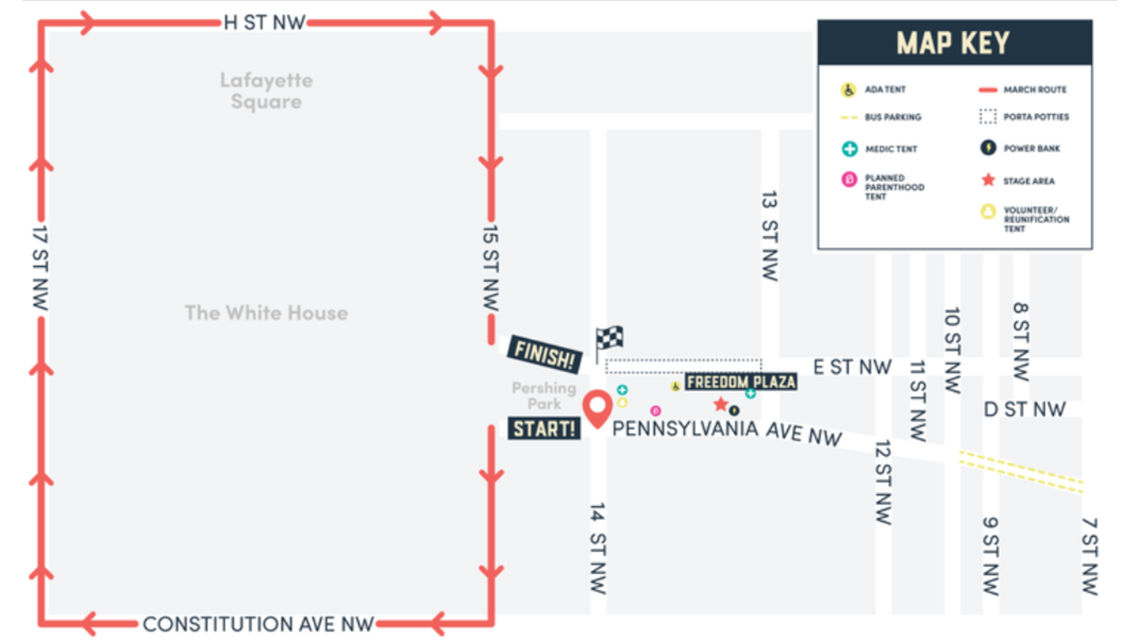 The following streets will be closed to vehicle traffic from approximately 9:30 p.m. to 4:00 p.m.:
17th Street between I Street and Independence Avenue, Southwest
C Street between 17th and 18th Streets, Northwest
D Street between 17th and 18th Streets, Northwest
E Street between 17th and 18th Streets, Northwest
F Street between 17th and 18th Streets, Northwest
G Street between 17th and 18th Streets, Northwest
H Street between 18th and 14th Streets, Northwest
New York Avenue between 17th and 18th Streets, Northwest
Constitution Avenue, Northwest between 18th Street and 14th Street, Northwest
15th Street between K Street, Northwest and Madison Drive, Northwest
Pennsylvania Avenue between 14th and 15th Streets, NW and 18th to 17th Streets, Northwest
Pennsylvania Avenue between 18th to 17th Streets, Northwest
E Street between 14th Street and 15th Street, Northwest
F Street between 14th Street and 15th Street, Northwest
G Street between 14th Street and 15th Street, Northwest
New York Avenue between 14th Street and 15th Street, Northwest
Vermont Avenue from I Street to H Street, Northwest
16th Street from I Street, Northwest to H Street, NW (except hotel traffic)
Connecticut Avenue from I Street, Northwest to H Street, Northwest