FAUQUIER COUNTY, Va. — A Fauquier County father is still trying to process the Valentine's Day tragedy that unfolded inside his home while he was at work.
Joshua Norwood told WUSA9 that he thought it was strange when he walked up to his house along Elk Run Road and his 6-year-old son, Wyatt, didn't greet him at the door.
Norwood said when he opened the door, he hadn't even dropped his work bag before a gunshot was fired by his 17-year-old son, Levi Norwood.
"I was sniped," Norwood said.
The Fauquier County Sheriff's Office said Wyatt and his mother, Jennifer Norwood, were shot to death by Levi on Friday.
Norwood initially spoke about those terrifying moments in the comments section of FauquierNow.
"The murderer I called a son until that act must have ran once he heard me yell as he knew his ambush shot failed," Norwood wrote.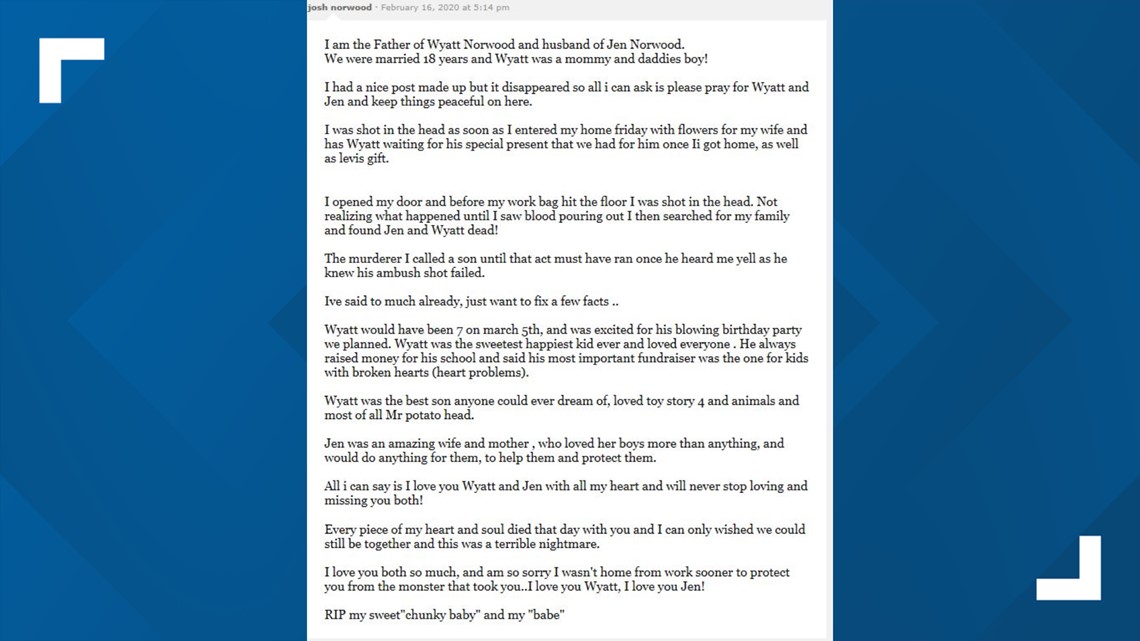 After that moment, Norwood said he scrambled to find his family and later saw Wyatt and Jennifer, dead.
"There was lots of blood," he said. "I opened my door and before my work bag hit the floor I was shot in the head. Not realizing what happened until I saw blood pouring out I then searched for my family and found Jen and Wyatt dead!" Norwood posted.
Norwood said he decided to write the lengthy posts because he wanted to do it in memory of Wyatt and Jennifer.
"I needed an escape," he told WUSA9. "My life is over as far as family and happiness."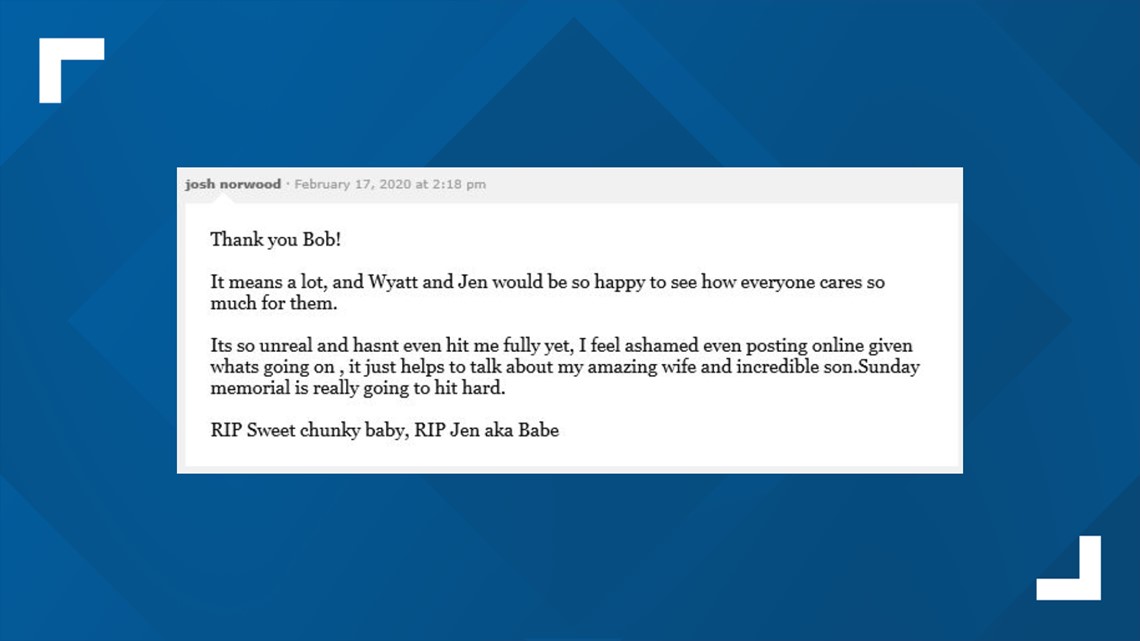 Levi was later captured at a Target in Durham, North Carolina. He was accused of stealing hair dye and clothing.
Investigators said he also gave a fake name, but law enforcement realized he was a murder suspect wanted in Virginia because of his purple hair.
Officials said Levi will be transported back to Virginia before the week's end to face a judge.
Norwood said there were no signs prior to Friday's shooting, recalling a trip he took to Richmond with Levi a few days prior.
"I told him, if anyone messes with him because of his purple hair, I'd take care of them," Norwood said. "If there were signs, Jen and Wyatt would still be alive."
When asked about Levi, Norwood paused and said he has so many emotions for his son -- both love and hate -- but isn't sure he wants to see Levi anytime soon.
"I want to focus on Jen and Wyatt," he said.
Norwood concluded his online post with an apology to Wyatt and Jen.
"I love you both so much, and am so sorry I wasn't home from work sooner to protect you from the monster that took you..I love you Wyatt, I love you Jen!"