WASHINGTON — Five years ago, Angel Gregorio was an assistant principal in D.C. weeks away from the start of a new school year, when she took a walk that changed her life; a split-second decision took her from educator to entrepreneur.
Gregorio's pivot came during a walk down the street after a manicure one Thursday afternoon. She saw a "for lease" sign in the window a few doors down from her nail salon and decided to make a call. The landlord told her the rent, but said he wanted a speedy decision.

"He said 'we're looking to make a decision by Tuesday,'" Gregorio said recounting the story that changed her life. "And I said, 'okay sir, I wanna open a spice shop. Can you just tell me the price?' I literally hung up the phone and I was like, yo, I'm opening a spice shop."
"The Spice Suite is probably the most serendipitous thing I've ever done in my life," Gregorio said. "And, I'm a girl who feels like I take risks. I live life on the edge a little bit, and I don't play by rules."
When Gregorio first opened the doors of her specialty spice shop in the Takoma neighborhood, she had a handful of competitors across the District. Now, she's one of the last ones standing, and lines can often be seen snaking down the street.
The roadmap to the Spice Suite for legions of fans starts on Instagram, where Gregorio has amassed 97,000 followers and counting. People come in droves for her spices -- no ordinary salt and pepper here -- which she searches the world for, using her taste buds as a guide to creating vibrant blends from maple hops to spicy classics and more.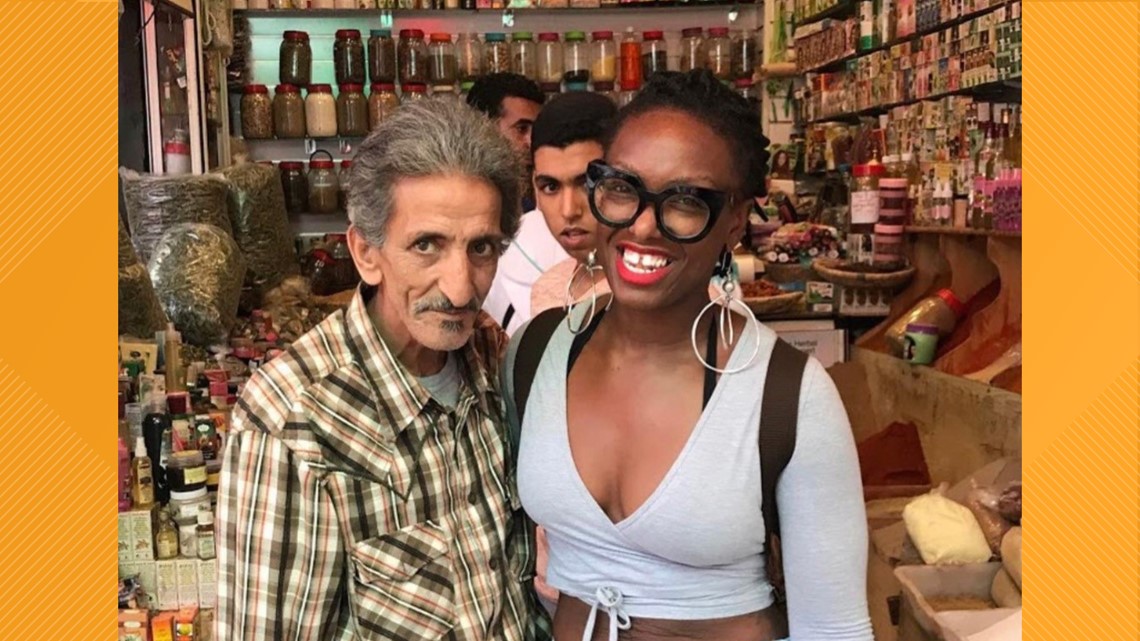 Early on, this educator learned a Google search for flavors just wouldn't do for what she hoped to accomplish at the Spice Suite. She'd have to travel to bring the world to her shelves.
Gregorio, her husband and two small children embarked on a journey to 26 countries (and counting!) to create her signature blends, from spices to teas and beyond. Most recently, the family spent eight days in Zanzibar, Tanzania, bringing back cardamom, cinnamon, cloves and lemongrass.

"This one tea could have spices from Morocco, India and Egypt all in one bag," Gregorio said.
Every bag and every item has a backstory, and a particular inspiration that keeps her going. Gregorio said she's always been on a relentless pursuit of freedom.
"Part of it is because I have two brothers serving in prison and they count on me to tell them the fun, cool and amazing things about my day," Gregorio said. "We have the same attitude. We have the same intellect. We just experienced life differently. Partly because I'm a Black woman and they're Black men."
Everyone, it seems, wants Gregorio's take on what's for dinner.

"They always come in and say, 'okay I'm making chicken what should I use?' And I'm like, 'I don't know you!'" Gregorio said, laughing. "I have no idea what you want your chicken to taste like. I'm not clairvoyant."
At a time when a pandemic forced so many businesses to shutter, Gregorio's business hasn't missed a beat. Her spice boxes ship across the country, coast to coast, from Connecticut to Texas.
She said what's most humbling is that people who've never even been to the Spice Suite still trust her enough to buy her boxes and kitchenware. Her boxes sell out moments after she releases them. Her latest was gone in three minutes, all 800 of them.
"Some of these people have never been to D.C.," Gregorio said.
There are layers to Gregorio's business, this mission she's building, because she said at the end of the day, she knows what happens when a dream is permanently deferred.
The Spice Suite has evolved past spices, and it now serves as an incubator for women, with a tribe of "spice girls" who sell their wares and help Gregorio run the shop. The store has packaged foods, oils, vinegars and a line of cookware. And, while customers want her to ramp her production up even more, Gregorio said for her, slow and steady wins this race.
"What I want to do is grow," she said. "I just wanna keep growing and keep having fun and keep becoming more free as this business evolves."
Gregorio said she has been approached by large companies and big box stores that want to carry her products. But she's committed to running her brand, her way.
Interested in trying Angel's custom spice blends? Visit her in store at 6902 4th St NW or check out her spice boxes online here.
Spice shopping around the world