HERNDON, Va. — Neighbors in Fairfax County woke up to their cars' windows smashed and airbags stolen Friday. They're the latest victims in what has become a national trend.
Katelyn Logan, who lives in an apartment complex in Herndon, Virginia, discovered the damage to her Honda Civic Friday afternoon.
"My front driver's side window had been completely smashed, and my airbag had been stolen," Logan said. "Nothing else was stolen from the car, just my airbag."
She later discovered that she wasn't the only victim. The management for her apartment complex sent out a notice that afternoon saying that "a number of Honda and Acura vehicles" had been vandalized.
Fairfax County police confirmed at least three reports.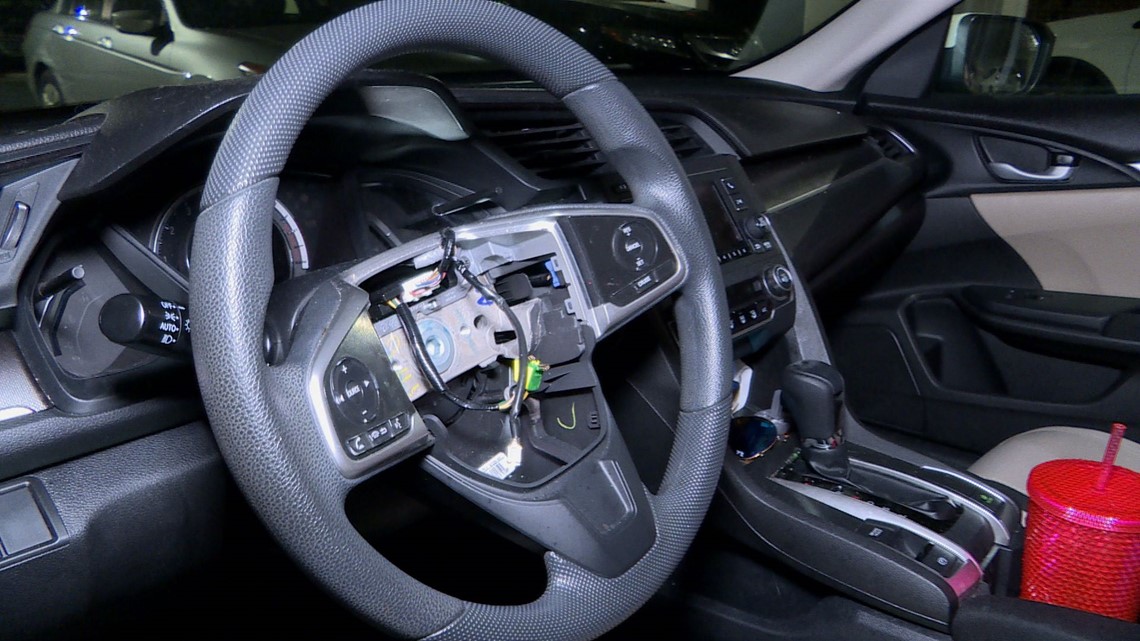 "I did not know that airbags were such a hot commodity," Logan said.
Previous reporting from WUSA 9 showed that this past Spring, Fairfax County Police warned the community of 17 cases of airbag thefts. Prince George's County reported at least 35, in Bowie and Hyattsville.
The biggest question on Logan's mind was "why steal an airbag?"
The National Insurance Crime Bureau said online that they can retail for $1,000 or more at a car dealer. Whereas, on the black market, the cost drops to $50-$200. The bureau said dishonest repair shops will buy airbags there and re-sell them to customers at full price.
In Logan's case, she said she is looking at $2,000 out of pocket for repairs.
"It was just completely shocking and incredibly upsetting that it had happened in a gated garage, in a gated community where I'm supposed to feel safe, where I usually do feel safe," she said.
The building concierge confirmed Saturday that there are no cameras inside the garage to have recorded the thief in action, an addition which Logan said police suggested.
"It's extremely frustrating," she said. "It's also making me feel extremely helpless."
Police said one thing everybody can do to protect themselves is to install a lock on their steering wheels.