MIDDLETOWN, Md. — Frederick County Sheriff's School Resource Officer Andy Smothers had dozens of doors to check.
"I'll just push on them and make sure they're secured," Smothers said.
Officer Smothers did more than secure the perimeter of Middletown, Maryland's Middle and High Schools. He cared for the emotional well-being of the hundreds of students inside its buildings.
"They ask you questions and it's our job to give them the real answer. So when I talk to them, I tell them, listen, I'm giving you the truth. This is all about life. This is what I've seen. This is what I've done," said Smothers.
Smothers recognized the debate of keeping SROs on school campuses and opposition from some groups focusing on the treatment of students of color by police officers.
Smothers said, "Being a Black male, Black man, I treat everybody fair. And if you treat in this job, if you treat people the way they want to be treated, your job is going to be easy."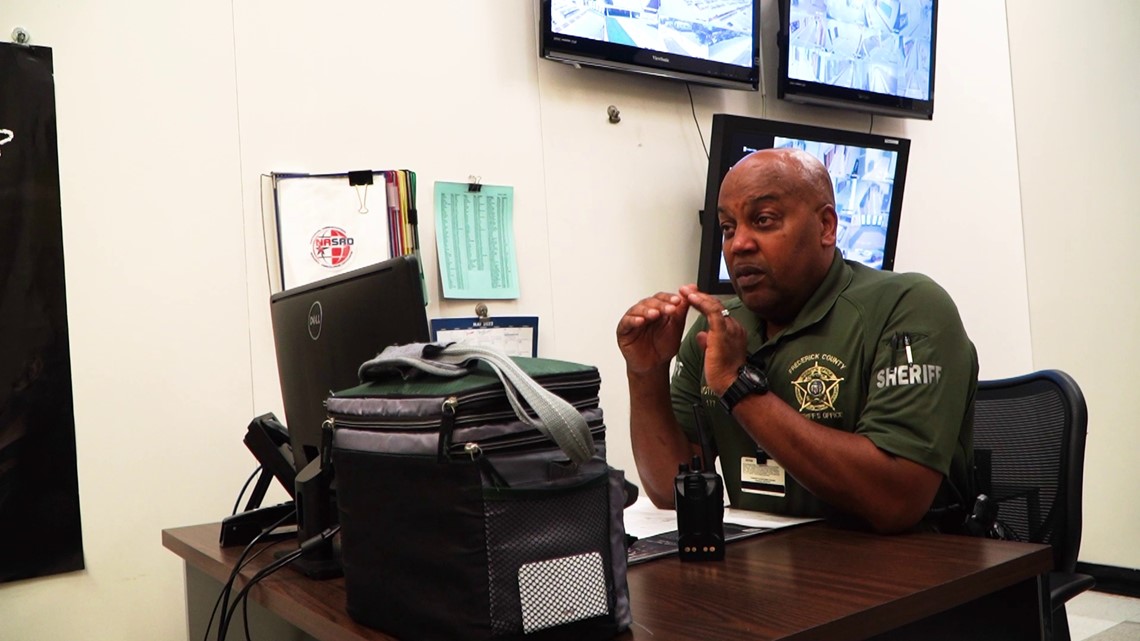 Smothers explained the powers his job has:
"We don't cuff them. That's the last thing. That's the last thing we've ever want to do, to cuff a kid. But there's situations where we have to. Other than that, they're afforded the same laws as everybody else." Smothers added, "As a resource officer, you've got to read a child. You've got to know if that child is having a bad day, or is there's something else wrong behind it."
Frederick County Sheriff's Lieutenant Jason Deater elaborated, "It is common practice to tell anyone being placed in handcuffs that they are either under arrest or being detained. If a person is being detained it is for further investigation and the deputy has reasonable articulable suspicion that the person being detained has been involved with a crime. A person may also be placed in handcuffs if they are at risk of hurting themselves or others and being transported to the hospital for an emergency evaluation. SROs will only handcuff a student as a last resort. It is extremely rare a student is ever removed from a school in handcuffs. If a student is being charged with a crime, it is done by a juvenile referral, and the student is never taken into formal custody. If a student is removed from the school by police, we make sure we are away from other students/staff to avoid embarrassment to the student."
RIGHTS OF STUDENTS
Do children have the same rights as adults when questioned by school resource officers?
"The student is afforded an attorney. Before we even conduct our interview, we have to let them contact their lawyers and their parents," explained Smothers. "Another thing is the age limits changed from seven to twelve for arrest. So that went up."
However, a DC Council bill, the "Youth Amendment Act of 2021" failed to pass committee. That means D.C. police officers, in and out of schools, can question children without telling parents or lawyers. DC Police Chief Robert Contee testified against the bill claiming it would be an obstacle to officers investigating the recent spike in carjackings.
LIFE IMPACT
When it comes to possibly laying down his life to protect students, it's something Smothers always kept in the back of his mind.
"That's what we as law enforcement, are taught to do. You know, not to sit outside of a classroom and wait, we got to go in, you know, and if I'm a one-man band, you know until the rest of my cavalry gets there, I'm a one-man band."
In between watching the security cameras at his office, and putting in a few miles each day on his feet, Smothers dispensed life advice to students and inspired one 8th grader we caught up with to overcome some previous behavioral issues at school:
"Hey, how are you, buddy? I'm doing good. What are you up to?" Smothers asked 8th grader Richard Trujilo.
"I joined the cadet program," replied Trujilo.
Smothers later the conversation made him feel good.
"It made me feel like I did my job."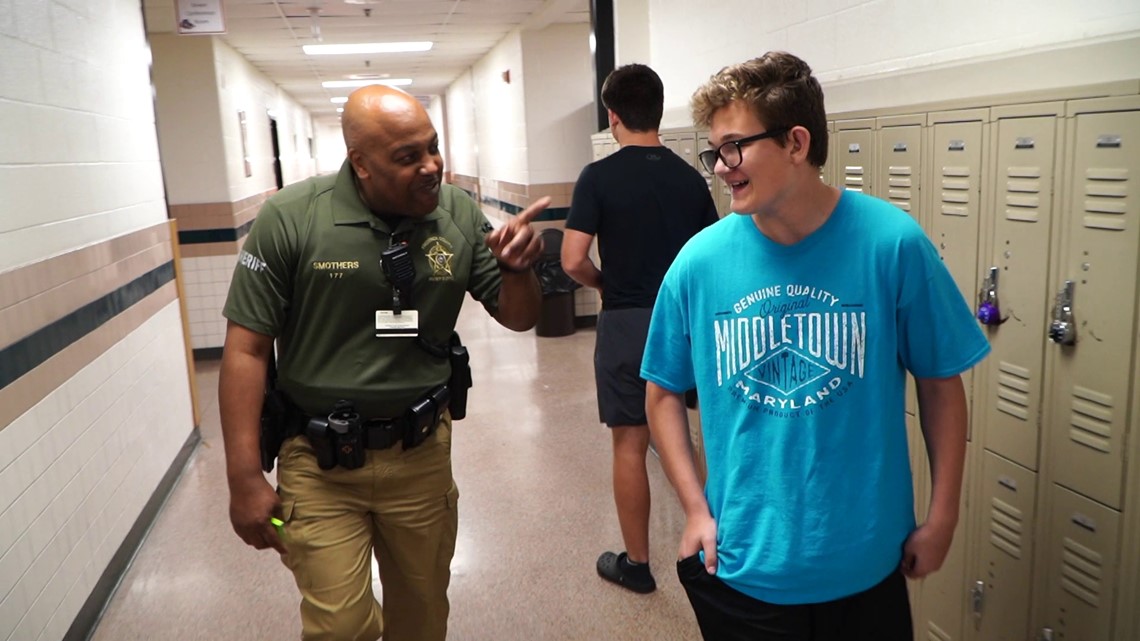 Even Middletown's teachers know their School Resource Officer has special knowledge on how to deal with young people.
Math teacher City Anderson explained, "One time, I went on vacation and kids came to my house were in the pool and I found out about it because one kid didn't know they didn't have permission. It was a situation that could have been a little B&E kind of thing. We didn't go that route. But he scared the living, ever-living days, out of them. But they still kept on loving him. But he had them all in tears, and I appreciated that."
Smothers kept checking the doors through his multiple walks around Middletown's campuses. Occasionally, he found a weak point with an unlocked door to the outside.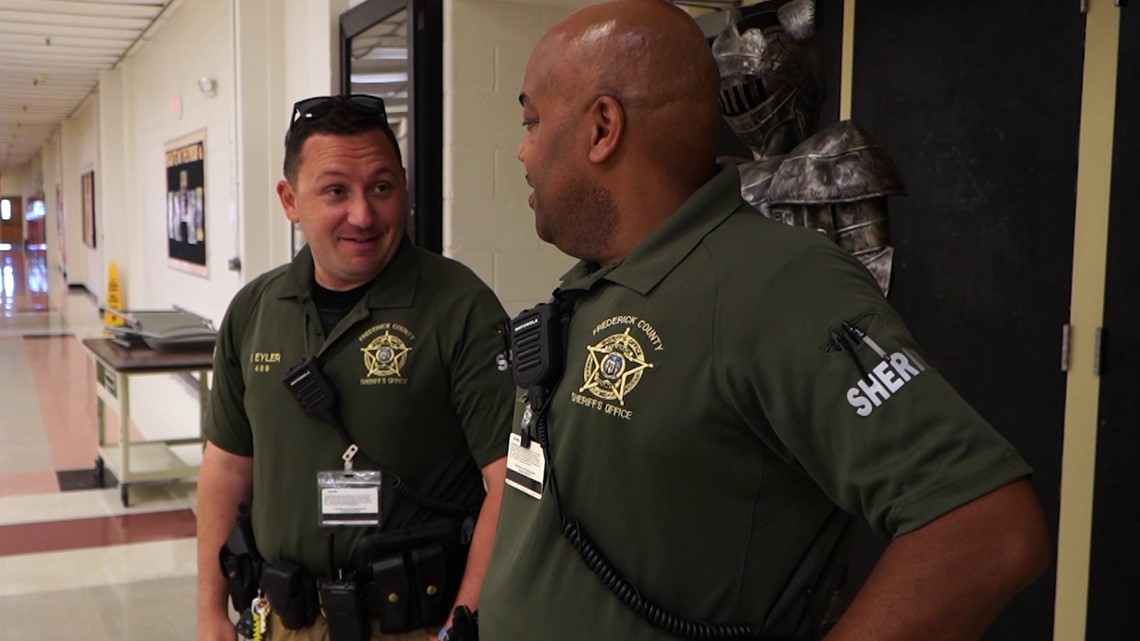 WUSA9 happened to visit Officer Andy Smothers on his last day.
"We'll miss you," teacher Karey Schuckers-Mattingly told Smuckers. "Thank you for everything you've done."
It was not just Smucker's last day at this school. Officer Smothers was retiring after 34 years in law enforcement.
Talking through tears in his office, Smothers said, "I want to finish out knowing I did it right. You know? But that's all. I just want to finish out knowing I did it right."