WASHINGTON — Hundreds of people gathered on the campus of Howard University to celebrate their sister Kamala Harris after her announcement as Vice President-Elect.
"When you come to Howard University that is a very distinct choice," said Niambi Carter, Associate Professor of Political Science at Howard University. "You are choosing a legacy and a lineage that is great in so many aspects."
Howard University boasts many incredible alumni, from esteemed civil rights lawyer Thurgood Marshall to the late congressman Elijah Cummings, activist Stokely Carmichael, Nobel and Pulitzer Prize-winning writer Toni Morrison and actors and actresses like Phylicia Rashad and Chadwick Boseman.
"This is the place that nurtured all of these people."
And now Howard University can proudly tout the first African American, Asian Female Vice President-Elect Kamala Harris.
On Saturday, her alma mater came together to honor and celebrate her in the way that only "HU" can! WUSA9 was there to capture how special this moment is to the Bison family.
As a large group of Alpha chapter members of Alpha Kappa Alpha gathered in front of the sorority's plot on the yard they cheered "Congratulations Kamala!" followed by their school chant: "H-U...YOU KNOW."
Even though classes are virtual and the campus is closed, that didn't stop Howard students and alumni from celebrating their sister, Kamala Harris, Vice President-Elect of the United States of America.
"I'm so proud of Kamala and I'm so proud to stand on the grounds where she walked, said alumna Kenya Sumner.
"Soror Kamala is the embodiment of 'everything is possible'," said Harris' sorority sister Tira Oliver.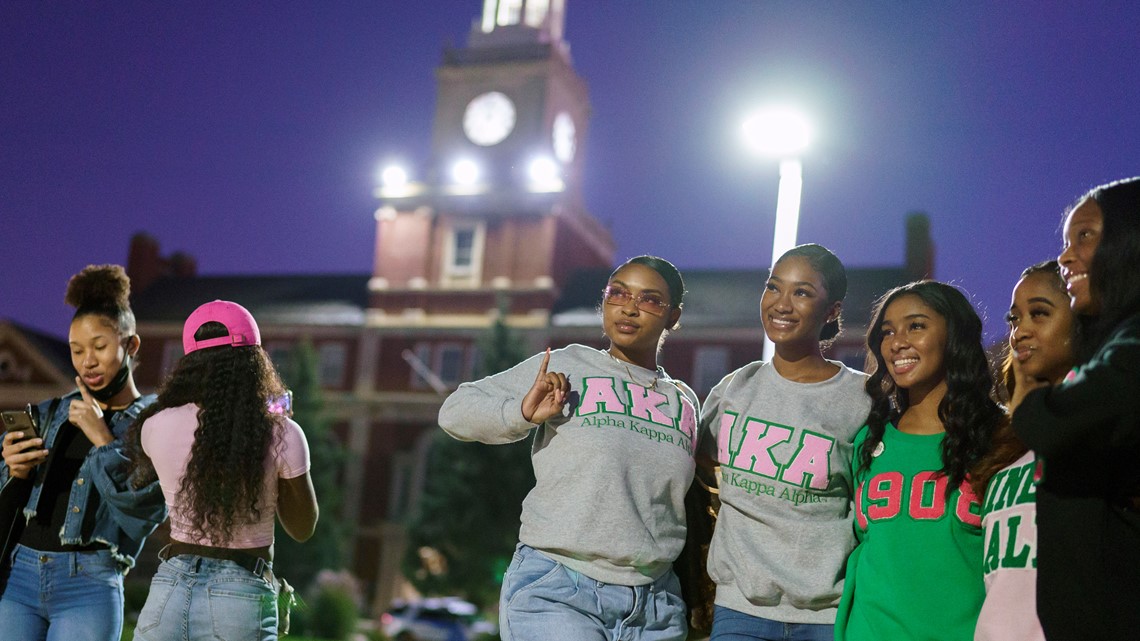 Harris graduated from Howard in 1986 with a degree in political science and economics, the same year she became a member of the Alpha chapter of Alpha Kappa Alpha, the first historically black sorority, founded on the campus of Howard University.
"We pledged Kamala in spring 1986," her prophyte Cheryl Taylor told WUSA9. "At the time we selected her there were just 10 of us on the campus so we had a tough job to do."
Cynthia Dramer Osaghae, another prophyte of Harris' said "even as freshman together we knew that Kamala was going places."

People on campus shared how Harris' successes feel like their own.
"The Howard family is huge we all feel a sense of connect to each other through shared struggles, through shared successes," said alumna David Bowman. "So if one person from Howard succeeds, we've all succeeded."
To whom much is given, much is required and these Bison left Harris with a mission.
"Just remember us as HBCU students, how we are under-funded, how we are under-represented [we are]," said Timothy McDonald, Mister Howard University. "Being in the position that you are in you have a chance to really help us out a lot. So just remember us and remember where you came from."