WASHINGTON — Days after a good Samaritan stepped in to help a DC nail salon owner who was trying to stop a woman from leaving without paying, the family got the chance to thank him in person for the first time Sunday.
"It's a very heartfelt reunion, it feels like, just to be able to thank him from the bottom of our hearts because we're really grateful for what he did," co-owner of Blue Bell Nail Salon in Northwest DC, Ryan Kim, said.
Tuesday afternoon, Kim's mom and co-owner got into an altercation with a customer who tried to leave without paying.
Kim said the woman and her friend's bill added up to $208. When they tried to pay with credit cards, he said they were declined.
He said they offered to go to a nearby bank and come back — but his mom asked for some kind of collateral to keep to ensure they returned.
One customer left and the woman who stayed refused and got increasingly angry — eventually trying to leave, said Kim.
Security camera footage Kim provided from inside the salon shows the customer hitting his mom on the head and pushing her as the owner tries to stop her from leaving.
The two ended up outside the salon door, and that's when the good Samaritan, who has now identified himself as Dr. Albert Coombs, a local dentist, stepped in. He helped encourage the customer to leave and offered to pay for the services.
Kim said Dr. Coombs left before his family could get his contact information to properly thank him. So, Sunday, WUSA 9 helped the two meet.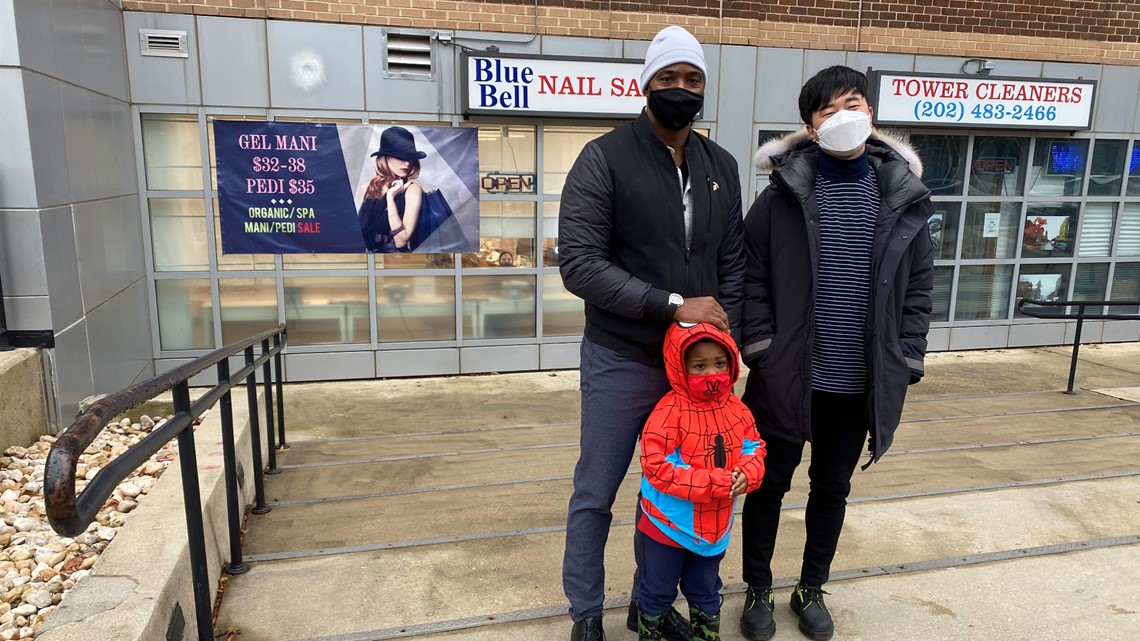 "It's a blessing," Dr. Coombs said. "I love this city, and I love the people in the city. I still believe that this city is mostly good."
He said on Tuesday he had just come from getting his vaccine at the nearby Giant when he noticed the commotion outside of the salon.
"I ran over right away … I asked what was going on," he said. "They said the woman had left out without paying. This was all while the altercation was going on. So I just told them I'd pay it just to stop the altercation. Told the woman just to leave it's fine. And then I paid for it and left and went back to work."
Dr. Coombs said as a fellow small business owner, he understands why Kim's mom tried so hard to stop the customer from leaving.
"I understand fighting for that. It's hard because sometimes we forget that our health is number one," he said. "I understand the anger, and from the other side, I also understand that depression and anger and angst, they manifest themselves in different ways. And regardless of the altercation, as long as everybody's safe, then we can figure out why things happened the way they happened, and come up with a humanistic reaction."
Kim said being able to meet Dr. Coombs for the first time and thank him for helping his mom gave him a much brighter start to the new year.
"To have something that just at first turned us away from people, turned us away from the community, but to have our faith brought back and just to know that there are people out there, there are still people out there who are good, and the community is still so helpful … has been just a blessing to think about," Kim said.
His family is offering free services for Dr. Coombs and his wife whenever they feel comfortable stopping by.
DC nail salon owner attacked as she tries to stop customer who refused to pay