WASHINGTON — Beyoncé has done it again.
The singer won big at the 65th annual Grammy Awards and secured the title of most decorated artist in the show's history.
The singer, who now has 32 awards, eclipsed the record held by the late Hungarian-British conductor Georg Solti. Solti, who had 31 Grammys, held the record since 1997.
Beyoncé tied the record early in the night but wasn't able to accept that award in person due to Los Angeles traffic, host Trevor Noah explained.
Once Beyoncé made it, she broke the record by winning Best Dance/Electronic Music Album for "Renaissance."
The singer entered Sunday's ceremony as the leading nominee including album, song and record of the year.
During the early Grammys ceremony, Beyoncé inched closer to gaining the title with two wins. Before Sunday's ceremony, Beyoncé and Quincy Jones were tied with 28 Grammy wins.
She won for best dance-electronic music recording category for "Break My Soul," traditional R&B performance for "Plastic Off the Sofa" and R&B song for "Cuff It," which was written by several writers including Beyonce, The-Dream, Nile Rodgers, Raphael Saadiq.
It's the first time Beyoncé has been nominated in the dance category. Her seventh studio project is up for best dance-electronic music album.
Muni Long — a best new artist candidate — beat out Beyoncé in the best R&B performance category for her song, "Hrs. and Hrs."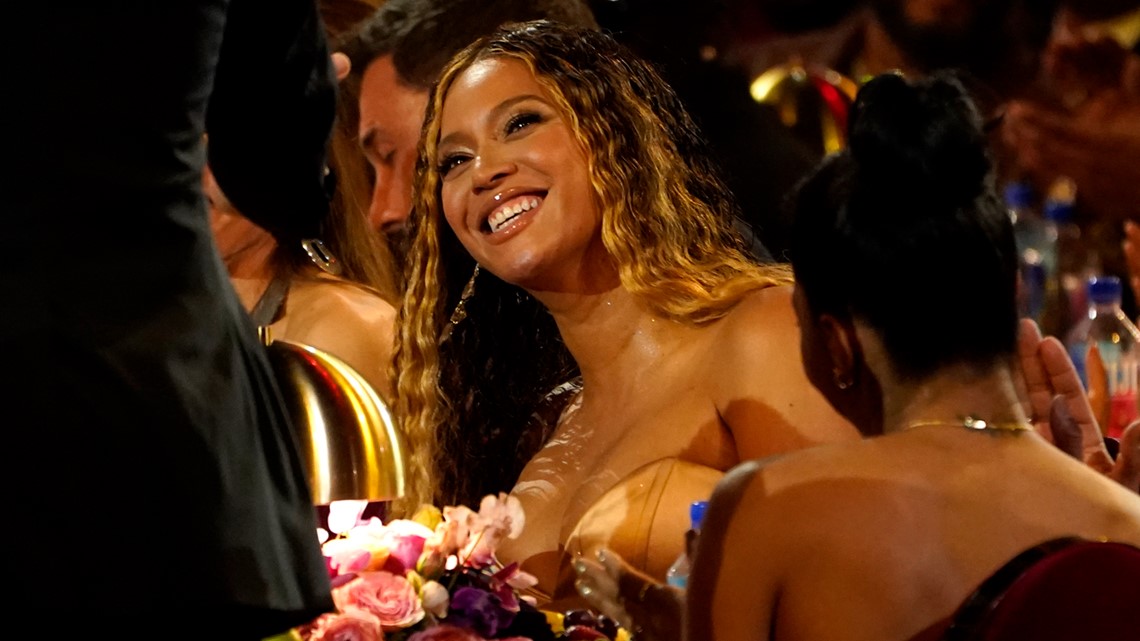 Beyoncé wasn't the only one making history at the Grammys. During the early ceremony, Viola Davis achieved the status of EGOT — a term for those who have won an Emmy, Grammy, Oscar and Tony — after her win for best audio book, narration and storytelling recording.
The actress gave an emotional speech and emphatically said "I just EGOT" after she marched on stage to collect her award.
"Oh, my God," she said. "I wrote this book to honor the 6-year-old Viola, to honor her, her life, her joy, her trauma, everything," Davis said. "It has just been such a journey."
There could also be many other firsts: If Bad Bunny wins album of the year for "Un Verano Sin Ti," it would be the first time a Spanish-language album has taken home the top honor. Taylor Swift, whose latest album "Midnights" wasn't eligible for this year's Grammys, could win her first song of the year trophy for "All Too Well." An Adele win for song of the year for her track "Easy on Me" would make her the most decorated artist in the category with three wins, the others coming for her megahits "Hello" and "Rolling in the Deep."