Netflix dropped the official trailer for Queen Charlotte: A Bridgerton Story on Thursday, with the two-and-a-half-minute treat opening with young Charlotte (India Amarteifio) lamenting over why she's been the one picked to marry King George (Corey Mylchreest). As she's reminded in the carriage to the Ton, "There are worse fates than marrying the king of England."
Of course, there's an agenda behind Charlotte's royal union with George. One, their marriage would act as a unifier for society. Two, having "lots of babies -- as many babies as possible for my son," as George's no-nonsense mother (Michelle Fairley) not-so-eloquently demands of Charlotte.
Not quite interested in playing the royal game, Charlotte inquires about George but encounters him by accident in a garden courtyard as she prepares to escape over a wall. Soon, it becomes George's mission to make her "hate him a little bit less." Cue scenes of extravagant dances, late-night meetings and sexy hookups between the soon-to-be husband and wife.
And George may not be all that he seems, as the trailer hints that the king is harboring some big secrets that Charlotte is not aware of. "She's his wife, she should know," Charlotte's secretary, Brimsley (Sam Clemmett), says ominously.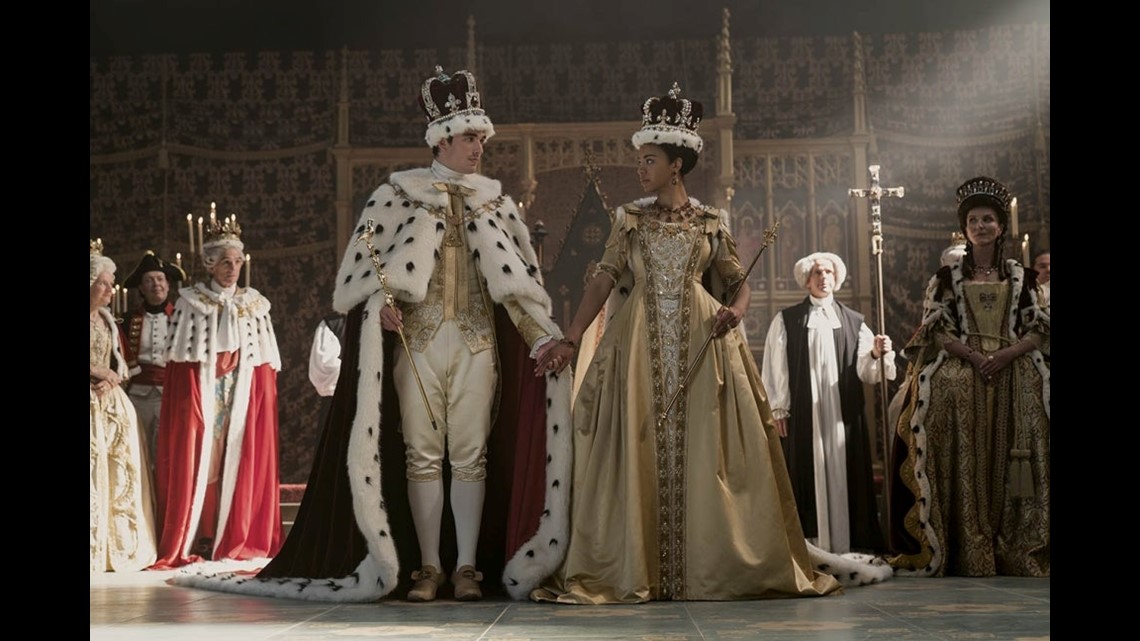 "What's happening?" Charlotte later demands in another scene from the trailer. "I do not want to fight," George replies, prompting her to get even angrier. "I want to fight with you. Fight with me. Fight for me!" she yells out of exasperation.
Even though things are not going well between the king and the queen, there's still mutual adoration there -- however tense it may get. "You're breathtaking. You break rules, cause scandal and you are as much a royal person I'll ever know," George declares to Charlotte.
"'Tis you and me, together," Charlotte agrees. Watch the official trailer below.
Queen Charlotte: A Bridgerton Story returns Golda Rosheuvel as the adult version of the character and tells the story of how the young queen's marriage to King George sparked both a great love story and a societal shift, creating the world of the Ton inherited by the characters in the flagship series. Bridgerton stars Adjoa Andoh and Ruth Gemmell reprise their roles as Lady Agatha Danbury and Lady Violet Bridgerton.
The ensemble also includes Freddie Dennis, Richard Cunningham, Tunji Kasim, Rob Maloney, Cyril Nri and Hugh Sachs.