WASHINGTON (WUSA*9)--You know him as the District of Columbia's fifth Mayor; however, Anthony Williams now has another title--cancer survivor. He was diagnosed with thyroid cancer back in June.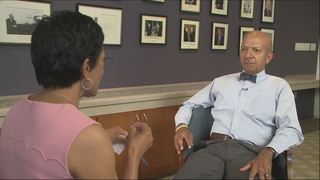 "You know when I look back on my life, I did everything right. I exercise. I try to eat right," says Williams. "I had regular screenings, but this thing was sneaking up."
Mayor Williams' first reaction when he got the news he had thyroid cancer was, "This is a bitch. This is horrible. This sucks," says Williams.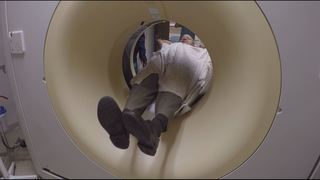 Risk factors for thyroid cancer include family history, radiation exposure, age and gender. It's also about 3 times more prevalent in women than men says Dr. Melissa Loughney, M.D., an Endocrinologist affiliated with
MedStar Washington Hospital Center.
MORE
:
Dr. Melissa
Loughney
"We're not really sure why," says Dr. Loughney, "But it may because more women are seen by their physicians than men."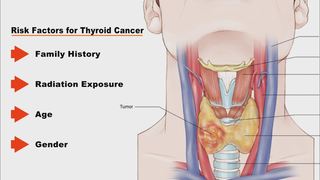 Williams had occasional hoarseness and trouble swallowing; but, it wasn't until he felt a lump on the side of his neck did he see a doctor, who prescribed an ultrasound.
"A very nice practioner, she was doing the whole ultrasound thing and she excused herself to go in and get the radiologist. The doctor," says Williams. "You know whenever they excuse themselves to get the doctor, you know that they are not just a fan club or something. So I knew something wasn't really right."
"For the Mayor, we also noted that he had some nodes that had cancer in them," says Dr. Loughney. "So if we note that there is some disease outside of the thyroid gland than we recommend a total
Thyroidectomy
."
Mayor Williams is not undergoing chemotherapy. Doctor Loughney says this is because thyroid cancer does not respond well to chemotherapy.
MORE
:
Radioactive Iodine Therapy
Following surgery, Williams was away from his job as CEO and Executive Director of the
Federal City Council
for about ten days.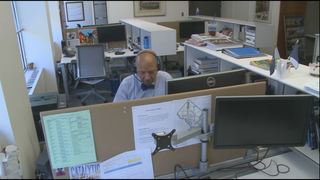 In his modest 5-by-5 cubicle, the former mayor works with public officials to solve key challenges facing the city. He was not about to let cancer get in the way.
"It puts things in perspective. You are mortal. You are aging. You're not going to be here forever which is all the more reason to make an impact while you are here," says Williams.
All the more reason why he's sharing his cancer journey.
"People look at you when you tell them you have cancer. They really do think you're sitting in the waiting room of a funeral home. Cause they start talking in whispers. Like, no, I'm not dead yet. Still here!" says Williams.
"You have to stay there in the fight. If you give up, and that's a big part of making this public, you have to stay in the fight. Don't give up. Obstacles are going to be put in your way and they are put in your way for a reason. I believe that, I really do. I believe there is a God. I don't think he or she is a big joker just trying to play with human kind. I think these obstacles are put there for a reason. You have a greater love for your family. You have a great appreciation for life and that's a good thing as Martha Stewart would say."
(© 2016 WUSA)