Maria is not the storm it once was last week, but will still pose impacts to the Outer Banks and parts of the East Coast as it continues northward over the next few days. In fact, you can tell via satellite imagery how the storm isn't as impressive looking as it once was. Dry air, wind shear and cooler waters are taking their toll on Maria, and the storm will continue to weaken.
Over the past day, it has been traveling a similar path to Jose, and hence has encountered some cooler ocean waters from upwelling. As hurricanes move across the ocean, they don't just churn up surface waters, but also mix the deeper, cooler waters with the warmer surface waters. Hurricanes need warm water to thrive. In addition, Maria has encountered some wind shear, so convection is looping lopsided, concentrated on the right side of the center of circulation.
Even though it's not as strong as it once was, it's overall a larger storm. As of Tuesday afternoon, the hurricane force winds stretch 90 miles out from the center, mostly east of the storm and the tropical storm force winds stretch 210 miles outside the center. With Maria's large side and close proximity to the Outer Banks of North Carolina, rough surf and some minor flooding is occurring.

Maria's journey will continue northward through Wednesday, getting close to being parallel with the Outer Banks of North Carolina. Before the hurricane can get further north and bring significant impacts to DelMarVa, a cold front pushes it eastward and out to sea.
The storm will pass close enough to the North Carolina coast, that tropical storm conditions are expected. The National Hurricane Center has issued a TROPICAL STORM WARNING for a good portion of the North Carolina coast.
Impacts for the Outer Banks include Tropical Storm Force Winds, Large Swells leading to dangerous surf and a high risk of rip currents, sound-side storm surge of 1-4 feet, and some minor to moderate coastal flooding at high tides.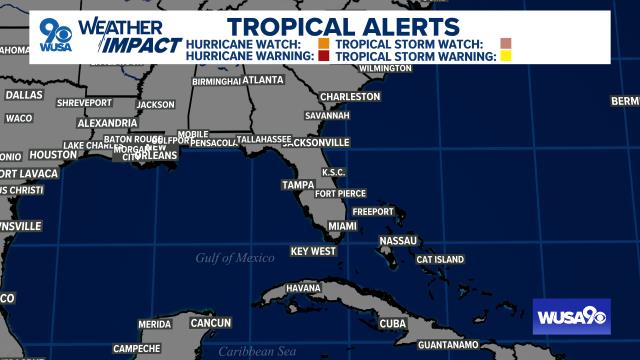 The tropical computer models really tell the story of Maria - something pushes it back out to sea mid-week. That "something" is a cold front, which also brings an end to the 80s in the Mid-Atlantic.
Because Maria gets pushed out to sea before reaching Delmarva, the impacts will not be very significant further north. Delmarva will have a high rip current risk and large swells and rough surf. Some additional cloud cover will be more prominent with Maria's closest approach, and this brings a shower chance as well. Several days at the beach could be a bit breezy this week, but we are not expecting tropical storm force winds.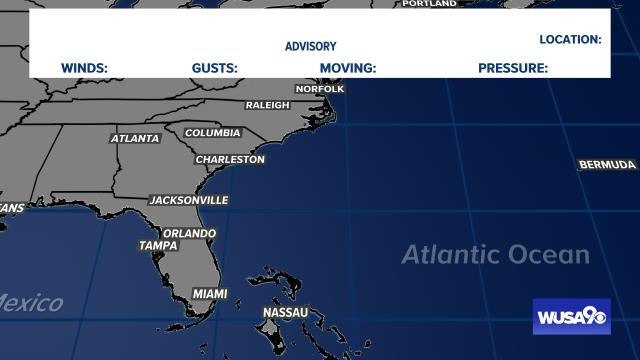 RELATED: Hurricane Tracker
Although most of the early named storms of the 2017 hurricane season never reached hurricane status, more storms began to reach hurricane status as upper air conditions became more conducive for hurricane development in August as wind shear decreased. The 2017 hurricane season has already exceeded an average hurricane season in all categories of named storms, number of hurricanes and major hurricanes and we are only just past the midway point. In an average year we see 12 tropical storms and 6 hurricanes, 3 of which become major (111 mph/+). Don't expect the tropics to become quiet all of a sudden either. Water temperatures are plenty warm and conditions are still conducive for more storms to brew.