We'll stay dry until Monday night when our next system brings a chance of rain and wet snow. This will be developing nor'easter #4 for March - and finally accumulating snow is likely for parts of the area. We have issued a Yellow Weather Alert for the potential for rain and snow that will impact commutes.
Here is the latest snow accumulation forecast map:
A Winter Storm Watch has been issued in the mountains in WV and MD where 5"+ snow is possible. Travel will become difficult here and snow will stick to trees and power lines.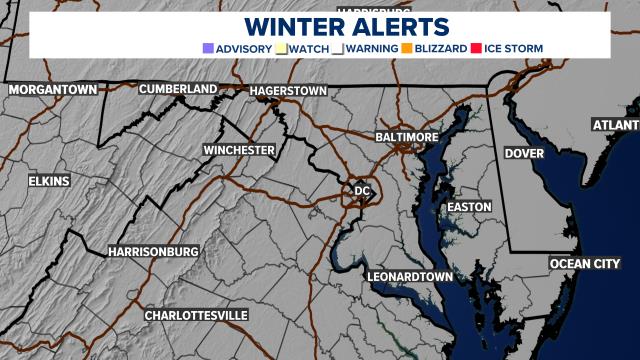 Below is a look at both the American and European Models for this event, which show broadly similar solutions. Monday night light rain overspreads the area with wet snow far northwest in the mountains and along the MD-Border. The rain-snow line will be near NW DC and the I-95 corridor during the morning commute, so DC can expect rain mixing with wet snow for the commute into work with wet roadways. The further into Tuesday morning we go, the rain-snow line will try to track further southeast. We will end with a window for all snow on Tuesday night and through Wednesday.
American/GFS Model: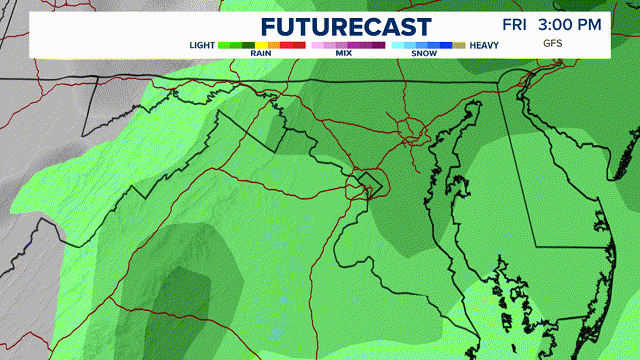 European/ECMWF Model: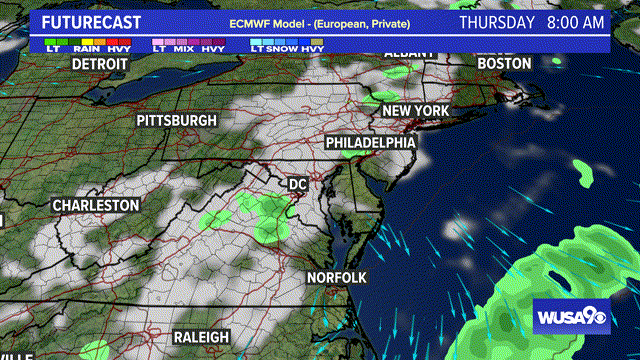 Our March sun angle, daytime temps above freezing, and above-freezing ground temps will help to limit the max potential of accumulations in the metro area verses what this scenario would be in early January. Still some accumulations will be possible, first on grassy and elevated surfaces, in the metro. Any better bursts of snow or banding features would increase snow rates enough to overcome the rate of melting on the roads as well and lead to the potential for slushy, slick roadways. This will most be common in the higher elevations of the mountains, but could happen on the north & west sides of town as well.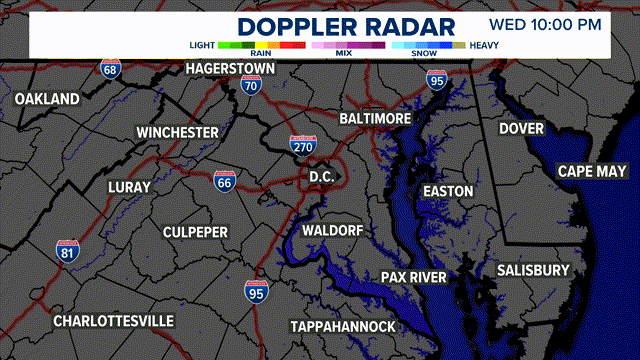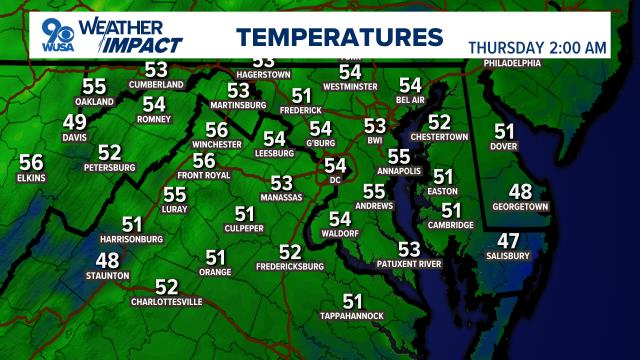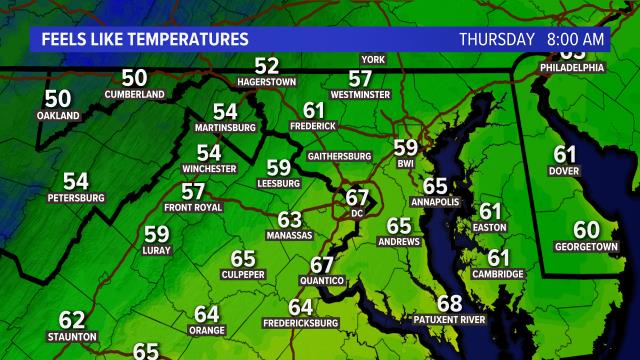 MONDAY AFTERNOON:
Mostly Cloudy
With A Stray Shower Late
HIGHS: Low 50s
WINDS: E 5 - 10
MONDAY NIGHT:
Cloudy & Cold
Light Rain Developing Around Midnight
A Mix Far North & West around 4:00 am
LOWS: 32 - 38
WINDS: ENE 5 - 10
TUESDAY: YELLOW WEATHER ALERT
Rain And Snow Mix
More Snow North & West
Mostly snow by afternoon in DC Metro
HIGHS: 35 - 40
WINDS: NE - 10
WEDNESDAY: YELLOW WEATHER ALERT
Periods Of Snow, Light To Moderate
Cold & Breezy
HIGHS: 35 - 39
WINDS: NE 15, Gusts 25 mph